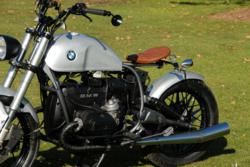 "I wanted to blend the best of BMW Engineering and Cafe Racer Styling", designer, David Ballinger
New York, NY (PRWEB) April 26, 2012
Chelsea, New York based Designer, David Ballinger, re-invents the 'custom motorcycle' with a range of custom BMW Engine-based motorcycles called MetroMotorbikes, along with inspiration from famous architect, Mies Van Der Rohe's thoughts that 'Less is more'.
MetroMotorbike is a simplified custom motorcycle using ultra-reliable BMW R100 airhead air cooled engines blended with a Ducati front end and choice of Cafe Racer vintage gas tank or Fat Bob Harley-Davidson style gas tank. The MetroMotorbike has adjustable air suspension, carbon fiber and kevlar options and a unique adjustable seat that slides into the frame for the most comfortable seating / motorcycle cruising possible.
Every Metro Motorbike is a custom made motorcycle designed by David Ballinger, designer of the Neiman Marcus featured MetroShip modern houseboat and modern garden shed, MetroShed. Ballinger has worked with both Harley-Davidson and BMW North America in a design career that has spanned 17 years working with high profile clients.
MetroMotorbike custom motorcycle designer, Ballinger stated 'I've always been fascinated with motorcycles ever since my father gave me a Puch 50cc motorcycle when I was 7 years old. I loved Harley-Davidson's iconic design but also loved Ducati's styling and I'd always been a fan of BMW motorcycles engines for their amazing reliability. Having owned different motorcycles I always wanted to design a motorcycle that could hold its own in the heritage world of Harley-Davidson and also in the Cafe Racer world of vintage Ducati bikes. The resulting MetroMotorbike took 3 years of design to blend vintage design with modern technology".
MetroMotorbikes start at $9,995 for a basic light customized motorcycle while an average MetroMotorbike will run about $18,000 for a carbon fiber tank, kevlar wrapped exhaust motorcycle model. MetroMotorbike custom BMW Motorcycle options include led lights, Brembo brakes, carbon fiber or painted custom made cafe racer gas tanks and adjustable air suspension and fully adjustable riders seat.
For further information contact: 818.357.4000 or visit http://www.metromotorbike.com