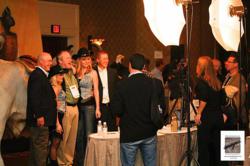 Attendees love it and the client can't do without this great service.
Las Vegas, NV (PRWEB) April 26, 2012
Event Photography and Onsite Printing Photography has always been two separate services. Event Photography covers events, corporate receptions to name a few. While onsite printing photography just create prints. Corporate and Convention companies often use both.
Social Media and Onsite Printing Photography was created about 14 months ago when Joseph Rodriguez of Professional Images Photography was hired to cover a convention. While photographing a keynote speaker that was talking about Social Media a light bulb went off that sparked a new way to give the customer a photo onsite and also a digital file that is attached to a custom email.
During a recent tradeshow in Las Vegas, NV Social Media with onsite printing was provided during an event at the Venetian. A step and repeat background was setup and the guests would come up and take a photo with a celebrity impersonator. An email is entered and then the quantity of the prints needed. With a press of a key the email is sent instantly and a print or prints are produced. Attendees love it and the client can't do without this great service.
The email sent has a custom message that is created by the client and inserted into the program and can have links going to any social media account client may have. In addition the photo attached is the photo that was just taken and the photo has the client logo if requested. The attendee often gets the email within minutes or less and many have instantly put it on Facebook, Twitter or any social media service they use. Branding a product or company is important and Professional Images Photography has the service that works.
About Us:
Since 1987 Professional Images Photographer has been providing Convention Photography services Nationwide. Based in San Antonio, TX with offices in Houston, Orlando, Washington D.C., New York and coming soon to Las Vegas, NV. 1.888.486.3241