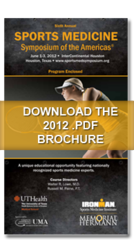 This is a rare opportunity for sports medicine clinicians to hear Dr. Andrews speak first-hand.
Houston, TX (PRWEB) April 26, 2012
James Andrews, M.D. – the "Michael Jordan" of sports medicine who can count the legendary hoopster among his many famous athlete patients – will headline a distinguished list of speakers at the 6th Annual Sports Medicine Symposium of the Americas June 1-3 at the InterContinental Hotel, Houston.
Andrews, arguably the most highly regarded orthopedic surgeon in sports medicine, will share the invaluable insight he has gained during more than 45,000 surgeries and 40 years of treating athletic injuries. He is most notable for repairing damaged ligaments, particularly in the throwing shoulder and elbow, and his name is synonymous with performing numerous Tommy John surgeries. The list of elite athletes who have called upon Andrews expertise include dual-sport star Bo Jackson and Hall of Fame pitcher Nolan Ryan, among others.
"This is a rare opportunity for sports medicine clinicians to hear Dr. Andrews speak first-hand," said the co-course director for the Sports Medicine Symposium of the Americas, Russell M. Paine, P.T., director of rehabilitation and research at the Ironman Sports Medicine Institute of Memorial Hermann and physical therapist consultant for the Houston Rockets. "He is more than a leader in sports medicine, a founding father of modern sports medicine, if you will, and will share his vast experience and his best kept secrets."
A pole vault champion while at Louisiana State University, Dr. Andrews moved on to medicine after his father passed away during his sophomore year, accelerating his studies so he could support his family. Andrews has been inducted into both the Alabama and Louisiana Sports Halls of Fame and served on the Sports Medicine Committee of the U.S. Olympic Committee. He teaches at several medical schools and serves as medical counsel and/or physician to the Washington Redskins, Tampa Bay Rays, Auburn University, University of Alabama and the Ladies Professional Golf Association.
During his storied career he has treated top athletes in just about every major sport – professional and collegiate – and saved many careers along the way. Brees, for instance, won the Super Bowl four years after having his shredded shoulder was surgically repaired by Dr. Andrews (involving the placement of 12 anchors, the most he'd ever used) and 95 percent of pitcher Roger Clemens' wins came after Dr. Andrews scoped his shoulder.
Not content to be brilliant at standard-of-care techniques in his field, he is continually exploring and mastering new surgical and rehabilitation methods that help athletes get back to the game faster and stay longer. He has advanced sports medicine by founding the nonprofit American Sports Medicine Institute, which produces influential research. In addition to participating in a panel discussion at the Sports Medicine Symposium of the Americas, Dr. Andrews will deliver the talk "What I Have Learned about the Shoulder and Elbow: Personal Experiences and Pearls," and, "Keys to Success in Life and Sports Medicine."
The 2012 Sports Medicine Symposium of the Americas is the go-to meeting for physicians, physical therapists and other sports medicine clinicians who want to stay at the top of their game. Other notable physician faculty members include Walter Lowe, M.D., co-course director and head physician for the Houston Texans; Keith Meister, M.D., head team physician for the Texas Rangers; Stephen O'Brien, M.D., an associate attending orthopedic surgeon at the Hospital for Special Surgery and New York Presbyterian Hospital. The symposium will also feature key physical therapists including Robert Mangine, P.T., national director of Clinical Sports Residency and head football trainer for the University of Cincinnati; Timothy Tyler, P.T., a clinical research associate at the Nicholas Institute of Sports Medicine and Athletic Trauma at Lenox Hill Hospital in New York; and Kevin E. Wilk, D.P.T., associate clinical director for Champions Sports Medicine in Birmingham, Alabama.
The symposium will feature case presentations, hands-on lab sessions, authoritative panel discussions and unparalleled one-on-one networking opportunities. "The Sports Medicine Symposium of the Americas is a high quality meeting that stands out from most medical meetings because of the group synergy and cohesive team approach that the speakers take with each other," Paine said. "We all have great respect for one another and because of that we are not afraid to discuss differing opinions on controversial topics."
Attendees will have the opportunity to earn continuing medical education (CME) credit.
About the Sports Medicine Symposium of the Americas
Now in its sixth year, the Sports Medicine Symposium of the Americas is the premiere gathering of the best and brightest in the sports medicine field. Leading physicians and physical therapists will come together at the InterContinental Hotel in Houston June 1- 3, 2012 to review and discuss cutting-edge evaluation, surgical and rehabilitation techniques for injuries that affect athletes of all levels. Through in-depth presentations and compelling hands-on lab sessions, the symposium will cover everything from the most trusted methods to the newest and hottest trends, and the most important issues in sports medicine today. For more information, please visit http://www.sportsmedsymposium.org.
About Complete Conference Management
Complete Conference Management (CCM) incorporates state-of-the-art technology to provide innovative learning experiences. CCM specializes in utilizing today's advanced communication technology to design and deliver education in a dynamic format. CCM's expertise includes facilitating the live broadcast of medical procedures from medical centers to meeting sites worldwide using the most sophisticated transmission methods available, simultaneous translation as well as audience response systems (ARS). Complete Conference Management is accredited by the Accreditation Council for Continuing Medical Education (ACCME®) to provide continuing medical education for physicians. To learn more about CCM, go to http://www.ccmcme.com or call 888-334-7495.
MEDIA CONTACT:
Shayra Quezada
Tel: 305.766.4566
Email: squezada(at)ccmcme(dot)com