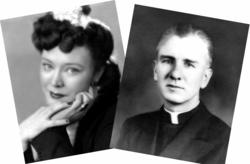 "The Catholic Church's Rule of Celibacy goes against nature," said Dr. Hope
San Diego, CA (PRWEB) April 26, 2012
Award-winning author, Tim 'Dr. Hope' Anders, is upset about The Catholic Church's Rule of Celibacy.
"The Catholic Church's Rule of Celibacy goes against nature. Nowhere in the Bible does it say that priests can't marry and raise a family. In fact the first Pope, St. Peter, had a wife. The Church came up with this silly rule in the twelfth century at the Second Lateran Council held in 1139, this is when the rule was approved forbidding priests to marry. The rule was reaffirmed by the Council of Trent in 1563. I believe that this rule was, in truth, simply put into place just so the Church could save money. The Church has successfully saved a fortune by not having to support the families of priests, but at what cost? Martin Luther argued that celibacy promotes masturbation, homosexuality and illicit fornication. Doesn't today's news services substantiate those claims? At present there is a crisis with priests molesting children. It is time that the Church rethink this antiquated and unnatural policy," said Dr. Hope.
His book, Everybody Calls My Father, Father, exposes to the world what happens when a priest ignores his vow of celibacy. The hardships and heartaches that the author's mother had to endure, at the hands of the Catholic church because of her secret and forbidden love with his father, a Catholic priest, will make you gasp.
The character of a tenacious young woman, Bouvette Sherwood (the author's mother), who is a successful New York Broadway producer and actress, drives the plot. In the mid 1940s Bouvette meets and falls in love with a charming alcoholic, Hughie Hewitt. He has a secret though, which he keeps from her during their intense courtship—he is a Catholic priest. For years their steamy romance and covert living arrangements are successfully hidden from the suspicious eyes of the church. After spawning two children their deception becomes increasingly difficult to conceal. Their love story unfolds into a kaleidoscope of intrigue, suspense, betrayal, and romance.
Excerpts of the book can be read at:http:// http://www.EverybodyCallsMyFatherFather.com
About Tim "Dr. Hope" Anders: Dr. Hope is an award-winning children's book author who also writes books for grownups. For more information about him go to http://www.DrHope.com.