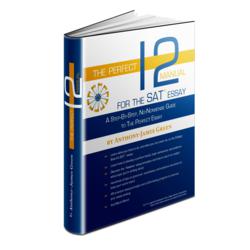 The SAT Essay is a pointless exercise in repetition - if you know the proper formula, you'll be able to get a perfect score regardless of your actual writing ability.
New York, New York (PRWEB) April 27, 2012
For students who lack confidence in their writing abilities, the SAT Essay has long been a terrifying prospect. A new addition to the SAT, the essay portion of the exam is poorly understood by most students, and this creates a vicious cycle.
"Because students are afraid of the SAT essay, they avoid studying for it. That makes it something worth being afraid of," says Anthony-James Green, author of the Perfect 12 Manual for the SAT Essay and widely considered to be the best SAT tutor in New York City. "Students assume that they can't possibly improve their writing ability in a few months, so there's no real point in preparing for the essay portion of the test. What students don't realize is that a good SAT Essay has nothing to do with their writing ability. At all."
To understand why Green feels this way about the exam, it's essential to understand how SAT Essay scoring works. "The SAT essay is graded by two graders who each have 6 points to dole out. A "12 SAT Essay" is therefore the best result that one can possibly hope for. Because these graders aren't allowed to use their own subjective opinions, they have to follow a rigorous set of objective, fact-based criteria in giving students their grades. Understanding how this system works is the key to getting a perfect SAT essay score."
When students submit their SAT essays, they begin with a perfect score. For each objective error they make, they lose points. Graders are instructed to deduct points only for objective criteria, which, according to Green, have to do with only two things: "structure and composition."
"Students lose points for the following reasons:
1. Lack of a clear thesis.
2. Lack of a coherent thread throughout their essays.
3. Lack of supporting evidence.
4. Lack of structure, topic sentences, and relevance.
5. Improper grammar and spelling.
If students avoid these five mistakes, they're going to score a 10 at the very least. Even if someone is a god-awful writer, he can still get a perfect or near-perfect SAT essay score by following an exact template, practicing its use, and spitting it out during the actual SAT."
Green's new book, The Perfect 12 Manual for the SAT Essay, encourages students to write essays that try to be "flawless" rather than "good."
"Students can't gain points on he SAT essay, and they need to understand that," says Green of his methodology. "A lot of students who are fantastic writers get terrible essay scores because they're constantly trying to "make good points" and "say smart things." The problem is that the SAT doesn't award points for this sort of thing. In fact, by trying to introduce extra evidence and thought-provoking material, most students are actually killing the coherence of their essays and losing themselves points. Students just need to know how to avoid the chopping block, and any student can write in this way with enough practice."
The Perfect 12 Manual provides students with an exact template that they need to follow if they're looking for a perfect SAT Essay score. The manual encourages students to plan their essays before they writing them, coming up with a thesis, three topic sentences to support that thesis, and a "so what?" and a "prove it!" statement for each of these topic sentences. Once they've done this, students simply need to plug these statements into an exact, paint-by-numbers template.
"If a student is looking to improve his SAT essay writing, this is the only resource that he needs," says Green of the manual. "The guide is full of SAT Essay prompts and perfect SAT Essay examples, and all students need to do to get a perfect score is practice, practice, practice. This whole thing is a pointless exercise in repetition - any student who follows the proper method and practices using it enough will end up with a perfect or near-perfect score."
Students and parents interested in the Perfect 12 SAT Essay Manual can find a copy of the manual, which sells for $14.95, by using the following link:
http://www.testprepauthority.com/SAT-essay-guide/
Anthony-James Green is a career SAT tutor and author of multiple books on test prep and study skills. The Perfect 12 Manual is produced and published by Test Prep Authority, his free online resource center for ACT and SAT tips. His books are used to fund the continuing activity of Test Prep Authority and to pay its content producers.
###