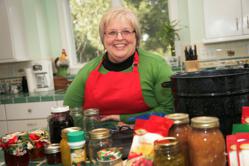 Food preservation can be delicious, easy and fun if you plan ahead!
St. Louis, MO (PRWEB) April 27, 2012
Check out Mrs. Wages' canning tips and food preservation ideas for the 2012 harvest along with safety recommendations from canning expert Shirley Camp retired University of Illinois Extension Educator. Shirley helped develop the canning education curriculum for Illinois and taught for almost 40 years.
Food preservation can be delicious, easy and fun if you plan ahead.
1. Check your canning equipment. Replace lids every year.
Gather together all of your canning supplies into a food preservation kit: your canner, jars, two-piece lids, funnel, lid magnet, bubble freer, cooling racks, towels, measuring cups (liquid and dry) and spoons, ladle, paper towels, cutting board, sharp knives, and any other equipment you might find useful.
Remember that the lids (or flats) used with the two-piece canning lids should be purchased new every year. The sealing compound can break down in storage and cause seal failures. Also, the manufacturers change the compound every so often. Buy only what you will use during the canning season and follow the manufacturer's directions on preparing them for use.
2. Use real canning jars.
Jars are another item you may pick up at garage sales and auctions. First of all, make sure they are real canning jars, not jars that once contained peanut butter, pickles, mayo, etc. Mason canning jars are what you need. Secondly, the green, blue, and brown canning jars are antiques – use them for your crafts, not canning. The same is true for the old zinc lids and glass tops with wire bails. Today use the flat lids (called either lid or flat) and a ring to seal the jar. Also check for nicks and cracks – these may cause seal failure.
Wands and Jar Lifters
A jar lifter is essential as is a funnel. A bubble wand is better than a metal knife for removing bubbles from the food. A magnet lid lifter will help you get the lids out of the hot water before putting them on the jars.
Pressure Canners
If you have a pressure canner, check it over. Some Extension Offices offer a service to check dial-type gauges. This should be done annually, if possible. Weighted gauges do not need to be checked. If you are shopping for a pressure canner, one word of caution, beware of auctions and garage sales. Pressure canners come in all shapes and sizes and have several parts – buying one at a sale may leave you with a large flowerpot because some of the parts are missing. Also, there are lots of "antique" canners out there – ones that are no longer manufactured or that are unsafe to use.
3. Check your recipes for safety.
Are they from USDA tested sources? Better to be safe when doing home food preservation. The Internet is a wealth of information and recipes for cooking and food preservation. But, beware: A safe food product depends on the acidity of the food and how you process it. Low-acid foods, which include vegetables, meats, and mixtures containing these foods, need to be processed in a pressure canner. The exceptions are tomatoes, which require acidification with lemon juice prior to processing and pickles.
Do not take shortcuts. Botulism toxin can grow in improperly canned food and botulism can be deadly. If you have questions about correct food processing methods, call your local Extension Office. For questions on canning and food safety, visit the National Center for Home Food Preservation Web site.
4. Check Your Spices, Pectin's and Mixes for Freshness
Open the container and sprinkle a bit of the spice into your hand and crush it. Smell the spice to see if it has the appropriate aroma. If the aroma is weak or the spices seem discolored, throw them away and replace them. Purchase spices in bulk so you buy only what you'll use in the coming year.
Jams, jellies, and preserves are always popular and many recipes call for pectin. Pectin does have an expiration date. Check any packages of pectin you have and make sure they are not outdated. If they are old, throw them away and buy new. If you have any leftover packets of mixes for canning, check those too.
Canning your own pickles, tomato sauces and fruits has never been easier. Check out Mrs. Wages® products, respected for more than 40 years for its pickling spices and tomato sauce and salsa mixes .
5. Plan what you want to preserve for the coming year.
You should only preserve the amount of food you will eat or give as gifts in one year – this is not a food safety issue, it is a quality issue.
# # #
About Mrs. Wages:
Mrs. Wages is a division of Precision Foods Inc. Mrs. Wages inspires people to develop healthy food traditions for their families. For more information and recipes, visit mrswages.com