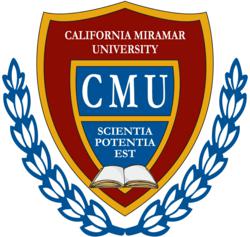 Masters in Strategic Leadership is another 100% online program that joins the highly acclaimed online MBA programs offered at California Miramar University.
SAN DIEGO, Calif. (PRWEB) April 26, 2012
Choosing the right designation is crucial for the successful career advancement. MBA designation has been the top choice for business professionals and administrators for many years. The broad skill-set of traditional and online MBA graduates allows them to find success in various settings and fields. However, rapidly changing technologies and increasing value of information create demand for deeper expertise and more specific knowledge.
California Miramar University found the winning answer to this growing demand in the job market in developing a Masters in Strategic Leadership (MSSL) degree that is precisely honed to build strategic leadership competencies. Professional leaders and administrators now prefer MSSL designation when they seek to retain the competitive edge and bring their organizations to a greater effectiveness and success.
Masters in Strategic Leadership is another 100% online program that joins the highly acclaimed and accredited online MBA programs offered at California Miramar University. The unique program of study for MSSL was designed by the same powerful team of educational specialists at CalMU whose collaboration earlier presented one of the top 10 MBA Programs in San Diego County as ranked by the San Diego Business Journal.
The program includes 39 units of core courses in critical subjects that help business professionals develop a strong philosophy of leadership, learn methods to analyze and think strategically, gain essential negotiation and coaching skills, and get much deeper understanding of modern entrepreneurship technologies. The final course in the Strategic Leadership program is a real business-based Capstone Project that serves as a test-drive of the strategic knowledge and competitive skills acquired by students during their course of study.
About California Miramar University
CalMU is well known for academic excellence, convenient study formats, a wide variety of affordable graduate programs and successful MBA career management. With interest free payments students can actually graduate debt free. Dedicated to honoring military veterans and their families and approved by the United States Department of Veterans Affairs, California Miramar University offers tuition assistance and offers many benefits from the GI Bill. In addition, qualified military spouses are entitled to a 50% discount for the entire degree program. A special Military Education Unit has a dedicated team that understands the challenges of military life.
CalMU offers several programs that are eligible for Veterans Affairs benefits, including MBA, Masters of Science Telecommunications Management, Masters of Taxation and Trade for Executives, and Bachelors degree programs, among others. Members of military community are not required to pay the application fee. Classes in online programs can be accessed from anywhere in the world.
Contact the Office of Admissions today to learn more and get started.
If you would like more information about this topic or to schedule an interview with California Miramar University, please call 858-653-3000 x12 or email info(at)calmu(dot)edu.