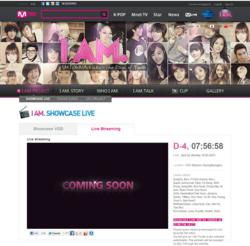 (PRWEB) April 27, 2012
The CJ E&M (CEO Kim Sung-soo) online business department announced that they would broadcast the showcase for the movie "I AM.," a film about the true stories of the artists from SM Entertainment, live to the world exclusively via its online homepage (http://mwave.interest.me/iam/index.m) and mobile web.
At the "I AM." showcase, which will be held at the CGV Yeongdeungpo Starium on the 30th at 7pm (KST/GMT+9), SM artists such as Kangta, BoA, TVXQ, Super Junior, Girls' Generation, SHINee, and f(x) are set to appear. Adding to the anticipation for the showcase, the making film of the music video "Dear My Family," which is the theme song of "I AM." Along with that, highlights of the movie will be released for the first time, as well. Furthermore, a time for fans to meet SM artists is also scheduled.
Global.mnet.com will open a live broadcast page in Korean, English, Japanese, and Chinese, to let the global fans watch the showcase. In addition, it will be prepared in both online http://mwave.interest.me/iam/index.m) and mobile web (m.global.mnet.com) platforms. The entire showcase will be fed live in HD for a better experience.
With the live showcase forthcoming, Global.mnet.com will also hold an event for the fans. 10 selected participants who wrote cheerful messages to their SM Artists on global mnet.com will be given the movie "I AM" posters.
Jin Min-jung, director of the global business department of the CJ E&M Online Business Department, stated, "Over 450 comments were posted on the global.mnet.com 'I AM.' official homepage from around the world, which shows the level of interest in the film," while adding, "With such interest in diverse regions such as North America, South America, Europe, and Southeast Asia, we expect that K-Pop fans from around the world will watch the live global.mnet.com showcase."
Meanwhile, since the first launching in September of last year, global.mnet.com is leading the globalization of K-pop through latest and unique contents. They successfully broadcasted a live comeback press conference of the group "Shinhwa" last February, as well as the street performance of "Busker Busker" earlier this month.
Yunsun Jung / CJ E&M / PR / Sr.Analyst / 82-2-371-8007 yunsun(at)cj(dot)net
"I AM."
○ Title: I AM. : SMTOWN LIVE WORLD TOUR in Madison Square Garden
○ Brought to you by: CJ ENTERTAINMENT
○ Production: CJ ENTERTAINMENT
○ Co-production: S.M.ENTERTAINMENT
○ Director: Choi Jin-sung
○ Cast: Kangta / BoA / U-Know Yunho, Max Changmin (TVXQ) / Leeteuk, Yesung, Shindong, Sungmin, Eunhyuk, Donghae, Siwon, Ryeowook, Kyuhyun (Super Junior), Taeyeon, Jessica, Sunny, Tiffany, Hyoyeon, Yuri, Sooyoung, Yoona, Seohyeon (Girls' Generation) / Onew, Jonghyun, Key, Minho, Taemin (SHINee) / Victoria, Amber, Luna, Sulli, Krystal (fx(x))
○ Premier: May 2012
○ True stories about SM artists such as Kangta, BoA, TVXQ, Super Junior, Girls' Generation, SHINee, and f(x), who performed on stage at the New York Madison Square Garden, the home of pop music, a first for artists from Asia