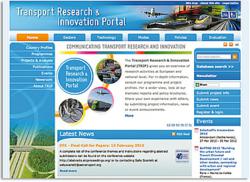 I welcome and fully support the launch of the EU Transport Research and Innovation Portal, as we prepare our transport systems for a cleaner and more sustainable future.
Siim Kallas
Vice-President of the European Commission
(PRWEB UK) 27 April 2012
The European Commission has launched its new Transport Research and Innovation Portal, TRIP, during the Transport Research Arena 2012, held in Athens on 23-26 April.
TRIP – http://www.transport-research.info – brings together information about research programmes and projects, country by country and on a European level, on one single site. It aims to improve access to knowledge in the European Research Area and beyond, through the dissemination and promotion of transport research results. The portal also aims to reinforce the link between transport research and transport policy through the provision of accurate, timely and complete information on key deliverables of transport research projects.
Note to Editors:
About the Transport Research and Innovation Portal
The Transport Research and Innovation Portal (TRIP) gives an overview of research activities at European and national level. Country profiles provide a summary on the organisation of transport research in the European Research Area countries. The Programme and Project sections contain detailed information on national, European and international programmes and projects respectively.
Our series of Policy Brochures and Thematic Research Summaries provide a broader overview of the research conducted at European level and its input into the policy-making process.
TRIP contains:

Project Database of 7,289 transport research related projects
Country Profiles, presenting national institutions and organisations responsible for funding, promoting and supporting transport research
Programmes for research and innovation in transport
Policy Brochures presenting results of transport research according to policy topics and Transport Research Summaries on 24 transport themes
Videos for each Policy Brochure
News of the latest in transport research, policies and innovation, including monthly e-Newsletters
Events Calendar of high-level international transport conferences
What is the European Research Area?
The European Research Area is composed of all research and development activities, programmes and policies in Europe, which involve a transnational perspective. Together, they enable researchers, research institutions and businesses to increasingly circulate, compete and co-operate across borders. The aim is to give them access to a Europe-wide open space for knowledge and technologies in which transnational synergies and complementarities are fully exploited.
ERA consists of activities, programmes and policies, which are designed and operated at all levels: regional, national and European.
For additional information, please contact:
helpdesk(at)transport-research(dot)info
This is a press release distributed by the Transport Research & Innnovation Portal (TRIP). TRIP is funded by the European Commission, DG MOVE under the 7th Framework Programme for Research and Development.
TRIP website: http://www.transport-research.info
Communicating Transport Research and Innovation
Legal notice: The contents of this press release are prepared by the TRIP consortium and represent their personal views on the subject matters. These views have not been adopted or in any way approved by the European Commission and should not be relied upon as a statement or policy of the Commission or DG MOVE. Reproduction is authorised provided the source is acknowledged.