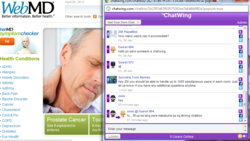 Atlanta, GA (PRWEB) April 26, 2012
April has been a busy month for Chatwing because of many global events. One of these events is the comeback of health awareness. Aside from ignoring the fact that many people are dying of disease, users of Chatwing chatrooms have begun sharing tips on how to live healthily.
People rely on Chatwing because of its improved rate of connection and messaging speed. In the latest release, Chatwing has more stable connection and there are no more messaging delays. According to Chatwing's developers, it took them quite a while to improve Chatwing's overall speed. Now, Chatwing is generating more sign-ups because users are already discovering its sheer potential.
In the Chatwing homepage, the user can begin chatting right away. Topics of health awareness have also sprung on the homepage—each user sharing their health experiences or tips. Now, the Chatwing chat box is livelier compared to its early release. "We can see that many people are already striving to attain better health. This is why we encouraged Chatwing users to spark more topics about health awareness. It benefits everyone," Commented by one of Chatwing's developers.
Common health discussions in Chatwing range from dangerous fastfood diet, integration of diet pills, Aspartame ingestion, the clear effects of stress, and tips on how to improve a person's wellbeing. Bloggers have also stated that Chatwing is the applicable shout box for these discussions because it can handle large influx of messages. Chatwing also has Facebook integration in its latest release. Now, guests and visitors can log in using their Facebook accounts. This simply means that people can now exchange profile information easily.
Health bloggers have also installed Chatwing for their blogs. In just few days prior to installation, these bloggers have observed moderate and high spikes of visibility. Some have claimed that Chatwing is 'healthy' for their blogs. It has been noted that Chatwing's high connectivity rate, easy installation, and high level of customization contributed to its overall ranking.
About Chatwing.com
Chatwing.com is a free chatroom and shout box for all web pages or blogs. It also lets anyone create free chatrooms on any website or blog. The Chatwing.com website offers users the ability to signup and create a customizable live chat box instantly with few details. Users have the ability to select the size, dimensions, and colors of the shout box. The ability to live chat with Facebook, Twitter or guest avatars is a unique feature which includes social sharing features in real-time. Chatwing is free chatroom software available to any user.