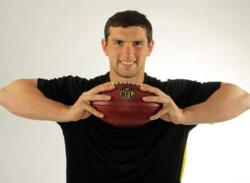 Los Angeles, CA (PRWEB) April 26, 2012
April 26, 2012 will be the first day in many players' careers as the 2012 NFL draft will bring many young athletes dreams to life. Players gather around their friends and family and await their name to be called by an NFL franchise. Every player works endlessly in the upcoming months to have their name announced in the First Round. As the teams are "on the clock" players nervously wait for that call from their agents to hear the beloved words, "You have been selected!"
For Andrew Luck, pre-draft jitters are a thing of the past as the Colts announced they will be taking Luck as the first pick in the NFL draft. The first pick in the NFL draft is typically the most highly scrutinized and highly anticipated as the player typically are awarded with largest contract. Many analysts found Andrew Luck worthy of the first overall pick, but some did have score it a tight race between Luck and with the 2011 Heisman Trophy winner and Baylor quarterback Robert Griffin III.
The numbers do speak for themselves as Luck threw for 82 touchdowns and just 22 interceptions in 38 games at Stanford. In his final two years, he completed more than 70 percent of his passes. Not mention that in 2011, he won the Maxwell Award and the Walter Camp Award as college football's player of the year. CBS Sports draft analyst Rob Rang called Luck the best prospect he has ever scouted.
Corporations quickly began to take notice of his talent along with his marketability. The first to sign Andrew Luck to an endorsement deal was Panini America. Panini America is the world's largest sports and entertainment Collectibles Company and is the only company in the world that manufactures licensed trading cards and stickers for the NBA, NFL, NFL PLAYERS, NHL, NHLPA, MLBPA and FIFA World Cup.
Not far behind them was Oregon-based footwear and apparel company Nike. Nike announced they will sign number one draft pick Andrew Luck to an endorsement contract. Andrew was interviewed shortly after and commented on the recent signing, "I'm excited to be part of the Nike team," said Luck. "And I look forward to pursuing the next chapter of my career with such an innovative company supporting me."
Andrew Luck has some big shoes to fill in Indianapolis, but if its anything that Luck has learned from signing an endorsement deal from Nike is that he will have to "Just do it."
Written by: Anthony Fernandez
About AthletePromotions.com
AthletePromotions is a sports marketing agency and athlete booking agency securing thousands of athletes for speaking engagements, corporate appearances, product endorsements, autograph signings, spokesperson campaigns, celebrity golf tournaments, VIP Meet & Greets and more. To book an athlete, call us at 1.888.246.7141
Ryan Totka and his team at AthletePromotions have assisted corporations in booking many New York Giants players for speaking engagements, corporate appearances, autograph signings and VIP Meet & Greets.