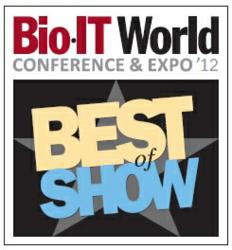 The Cambridge Semantics Competitive Intelligence Solution is currently in use at some of the world's top biopharma organizations
Boston, MA (PRWEB) April 26, 2012
Cambridge Semantics today announced the company's new Competitive Intelligence Solution has been named "Best in Show" at the 2012 BioIT World Conference. Based on the flagship Anzo Software Suite, the Cambridge Semantics Competitive Intelligence Solution was recognized for its unique approach to helping biopharma companies handle their diverse and ever-changing information needs. To learn more visit http://www.cambridgesemantics.com.
The Cambridge Semantics Competitive Intelligence Solution is currently in use at some of the world's top biopharma organizations where R&D teams, business development, marketing and knowledge management groups are tasked with delivering critical competitive intelligence information. Unlike traditional data management approaches, Cambridge Semantics enables these groups to easily route targeted information to the right people at the right time from the right sources incorporating both structured and unstructured data. The ability to add new sources on the fly by end users is critical and would not be possible if the Anzo software were not based on Semantic Web technologies.
"At Cambridge Semantics we are committed to helping our customers leverage the innate flexibility of semantic-based technology to address their most pressing data challenges," said Lee Feigenbaum of Cambridge Semantics. "We are pleased to honored by the BioIT World Conference for our innovative approach to competitive intelligence for biopharma companies."
About Cambridge Semantics
Cambridge Semantics is the leading provider of semantic data management software for the enterprise that is designed to bridge the gap between business processes and data-driven business intelligence. Enterprises face an increasing need to quickly combine diverse data that crosses organizational boundaries in order to make better decisions and improve process efficiencies every day. Our Anzo software lets business users search for, virtualize, analyze, act on, and make decisions with any internal or external, structured or unstructured data. Based on the revolutionary flexibility of Semantic Web technologies, Anzo provides unprecedented ease-of-use, speed of implementation, and operational business process integration for just about any formal or informal business activity.
To learn more about Cambridge Semantics visit http://www.cambridgesemantics.com and check out our blog "Enterprise Semantics" or follow us on Twitter @CamSemantics.