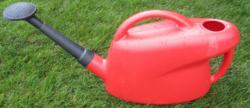 There's no reason that people can't keep on updating their garden this summer
(PRWEB UK) 30 April 2012
Online Turf is working hard to try and encourage responsible water use with the introduction of watering cans for sale, suitable for lawns with an area of up to 100 square metres!
Watering cans aren't a new invention. They've been used for hundreds of years by gardeners looking for an efficient way of keeping domestic gardens lush and green. Cultivated lawns have been in existence since the sixteen century [http://en.wikipedia.org/wiki/Lawn whereas hosepipes are a more recent phenomenon; proof that lawns can be maintained without the aid of a hosepipe.
Hosepipes can make life easier for the gardener, but in this time of water restrictions they simply aren't a viable option, with many water companies threatening fines for non-compliance. The first and most important thing for the careful gardener to note is that there is simply no need to water an established lawn. Along with the Turfgrass Growers Association, Online Turf is keen to point out that there is no need to waste water maintaining an established lawn, as turf has mechanisms to allow it to survive during a period of drought.
However, when it comes to laying a new lawn it is essential to make sure that the new turf is well-watered. This helps to establish new roots and good growth on a new lawn, which is the foundation of any successful garden. Most gardeners choose to use a hosepipe to make this job easier, but for smaller lawns there's no reason not to soak the lawn with a watering can. Online Turf's new watering cans are an easy to carry shape, with a nozzle designed for an even spread of water. The watering cans are also very affordable, with prices starting at only £2 when ordered with new turf.
Customers don't need to be in the drought-affected area to order one of the new watering cans. With some areas already under official warnings, if not yet a hosepipe restriction, the responsible thing to do is to try and preserve water where possible. Most domestic lawns tend to be of a size where manually watering the lawn with a watering can is both time and cost effective, and as the new Online Turf watering can carry approximately four litres of water, that's a great coverage for a new lawn.
"There's no reason that people can't keep on updating their garden this summer," said M.D. Ian Mercer. "With a little careful planning and an investment in a new watering can, it's entirely possible to have a new lawn and to help preserve water in areas affected by drought. Our new watering cans are a good way for customers to bed in their new lawns – and of course, they can be used over the entire garden and for other plants even after the hosepipe restrictions are lifted."
The watering cans will be on sale by Friday 27th April 2012. In the meanwhile, customers can still place orders through the website for new turf, and are advised to speak to their local water provider if there is any confusion about hosepipe restrictions. Online Turf also has advisors who can help customers with their new purchase of turf, and any concerns they might have about how water restrictions might impact on their new lawn.