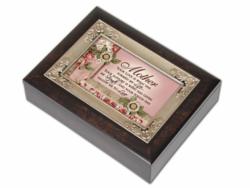 We've spent a considerable amount of time carefully selecting our merchandise.
Cheektowaga, NY (PRWEB) April 27, 2012
Christmas Central, an online retailer well known for its artificial Christmas trees, twinkling lights, and plentiful Christmas decorations, now adds Mother's Day to the list of holidays served by its inventory. With a few clicks of a mouse, customers can purchase gifts of scented candles, fashionable jewelry, or stylish home accents for their special moms. And, as with its Yuletide merchandise, Christmas Central has strived to provide options to match all tastes and budgets.
Just in time for Mother's Day, Christmas Central introduces Cottage Garden music boxes and recordable message boxes, which can be personalized with custom photographs or artwork. Its updated online catalog also features an expanded jewelry category, trendy serving pieces, picnic accessories, and specialty foods. With a wide selection of attractive pillows, vases, and furniture, shoppers can choose items in line with recipients' wishes.
"We've spent a considerable amount of time carefully selecting our merchandise," said Nathan Gordon, Christmas Central CIO. "We want to offer gift options to suit all styles and preferences."
For mothers who enjoy gardening, Christmas Central lists decorative statues and planters, lawn stakes, stepping stones, outdoor figurines, and fountains. Or, families can offer Mom relaxation time on a new patio lounge or glider, accompanied by the soothing scent of aromatherapy candles or potpourri. Sports-minded mothers can tout their allegiance to college or professional teams with officially licensed products.
As in the past, Christmas Central continues to maintain its stock of traditional "holiday" merchandise—Christmas trees, lighting, and ornaments— all year, so families can also opt to help Mom prepare early for next season's decorating.
About ChristmasCentral.com
ChristmasCentral.com is a division of Gordon Companies, Inc., a family owned and operated business founded in 1977. As one of the largest online retailers of Christmas merchandise and home décor,
ChristmasCentral.com offers over 30,000 products, serving the decorating needs of individual shoppers, professional decorators, small and large businesses, and television studios. Its colorful Christmas trees have been featured on NBC's "The Today Show."
For more information, or to schedule an interview with Nathan Gordon, please call Brandon Datwyler at (716) 558-2847, or email to Brandon(at)ChristmasCentral(dot)com.