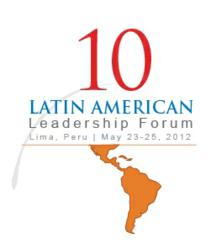 "There are four emerging infrastructure clusters in Latin America - Brazil, Mexico, Peru and Colombia - that will capture nearly 70% of infrastructure investment in the region over the next three years."
Washington, DC (PRWEB) April 26, 2012
CG/LA Infrastructure, Inc. is the world leader in global infrastructure project identification, focused on doubling the level of infrastructure project investment through 2020. The annual Latin American Leadership Forum brings 500+ infrastructure executives from 40 countries together to discuss, design and invest in new infrastructure projects. Theme of this year's Forum is Competitiveness and Opportunity in a Rapidly Growing Region - projects to be presented by their developers represent an investment of greater than 4% of the region's GDP, and would create more than 6 million direct jobs.
Four countries - Brazil, Mexico, Peru and Colombia - are driving infrastructure investment in the region, transforming the position of Latin America in the global economy. Nearly 70% of the region's investment will go into these countries. Brazil leads the pack with more than $60 billion in projects; Mexico is second with $28.3 billion; Peru comes in a surprising third at $24.2 billion; and Colombia is at $23.5 billion. The region is riding a 10 year growth spurt - Peru's growth during this period has averaged greater than 5% per year.
Sector concentration is also significant. In previous years projects tended to cluster around resource extraction, but in 2012 there is a clear transition to improving overall economic opportunity. The clear sector leader is transportation, with over $90 billion in project opportunities - urban mass transit leads at $22 billion, followed closely by highways at $21.7 billion. The natural gas revolution is a driving force in Latin American infrastructure, with just under $40 billion in project opportunities. Power generation is the third strongest category, at $26 billion - with nearly $16 billion in hydropower opportunities. Nearly all projects present private investment opportunities, including nearly 20 P3 projects.
Sponsors of the Leadership Forum include: Platinum - AEGEA, The Andean Development Corporation (CAF), the Inter-American Development Bank, Madrid Network & The Government of Canada; and Gold - Bankia, ESRI, The Government of Singapore, The Government of the Dominican Republic, Navistar, Scotiabank and the Government of the State of Michoacan, Mexico.
CG/LA Infrastructure, Inc., with offices in Washington, DC and São Paulo Brazil, is celebrating its 25th anniversary in 2012.