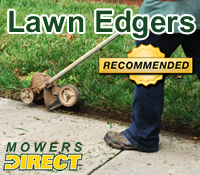 Turning your lawn from good to great can be as simple as adding an edger to your repertoire of lawn tools
Bolingbrook, IL (PRWEB) April 26, 2012
Today MowersDirect.com announced its recommendations for the best edgers.
"Turning your lawn from good to great can be as simple as adding an edger to your repertoire of lawn tools," said Todd Gwaltney, resident product expert at Mowers Direct. "You can have sharp, well-maintained grass borders around your driveways, walks and flower beds."
Top Lawn Edgers
Good: GreenWorks 12-Amp Electric Edger - 27032
Better: Recharge Tools (10") 18-Volt Lithium-Ion Cordless Grass Trimmer/Edger - GTLI-10
Best: Tanaka Professional 25cc 2-Cycle Stick Edger - TPF260PF
MowersDirect.com offers a wide selection of edgers for any lawn-care need. Whether you want an electric, cordless, gas-powered or walk-behind edger, you can find it, along with reviews & recommendations, at Mowers Direct.
Since its inception in 2008, the Web-only superstore has put together a collection of mowers unrivaled anywhere. Mowers Direct now carries more than 400 models of mowers, tractors and lawn tools from the top brands such as Ariens, Honda, Husqvarna, Snapper and Toro.
MowersDirect.com has sought to become the online authority for lawn tractors, riding mowers, walk-behind mowers and yard tools. The product experts at Mowers Direct have tirelessly tested and researched all the models to determine which ones stand out.
After weighing all the field tests, product research, and customer insights, the product experts recommended only 3 edgers.
In addition, Gwaltney personally wrote recommendations for all the edgers that made the grade.
MowersDirect.com hopes to provide customers with enough information and expert insight to allow them to pick the perfect edger for their lawn-care needs.
Power Equipment Direct operates 10 niche online superstores. In addition to MowersDirect.com, the Bolingbrook, IL-based company operates AirCompressorsDirect, ChainSawsDirect, ElectricGeneratorsDirect, LogSplittersDirect, PressureWashersDirect, SnowBlowersDirect, SumpPumpsDirect, TillersDirect and WaterPumpsDirect.