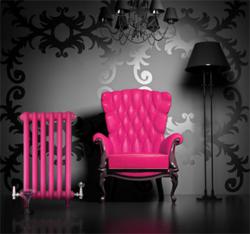 The process itself involves professional and accurate spray-painting, of all radiator components, before they are constructed together.
(PRWEB UK) 27 April 2012
The month of April has brought many great achievements for Paladin Radiators, including triumphant appearances at both the National Home Building & Renovation Show and the Listed Property Show. At each event, Paladin's vast collection of cast iron radiators generated much interest within the crowd, spurring many questions and requests. One common theme running amongst these questions surrounded the topic of colour schemes and the available finishes on offer.
On the back of these accomplishments and queries, Paladin is proud to announce more improvements to their product and services. The whole range of cast iron radiators is now available to order in custom colours and paint finishes. The team have the ability to mix any specific paint colour, to match any particular décor, helping people to incorporate radiators into the design and decoration of a room. The mixing and matching of colours is achieved by an in-house professional team of painters, who can produce any colour for any particular requirement. Customers can conveniently match the colour of their radiators to surrounding wallpaper, by simply providing a small tear-off sample of the wallpaper to the paint-mixing team.
In addition to this, customers can also match the appearance of radiators to harmonise with the same paint to decorate a room. All that is required is a RAL, BS number, paint name or a small sample of the existing paint and the expert paint team at Paladin will duplicate it perfectly. This custom colour option is available across the full range of Paladin cast iron radiators including the Victorian, Kensington, Oxford and Edwardian range.
For those individuals keen on restoration and traditional furniture, Paladin now also offers a full range of heritage colours across their cast iron radiator collection. For a historical finish and real restoration results, the Lincolnshire based company use Farrow & Ball antique colour range. Popular colours for that traditional appearance include White Tie 2002, Railings 31 and Off Black 57. This process involves an egg-shell polish for a realistic and historical flat surface, but an oil full-gloss finish is also available.
Helen Proctor Managing Director of Paladin Radiators added "The process itself involves professional and accurate spray-painting, of all radiator components, before they are constructed together. Each section is coated individually to ensure a smooth and all-round finish before the parts are fixed collectively. This even and smooth-surface finish is difficult to achieve on pre-built radiators, as reaching each nook and cranny can prove tricky." With such quality bespoke service, Paladin can guarantee to provide a cast iron radiator to suit any person, any mood and any room.
About Paladin Radiators
Paladin Radiators, based in Lincolnshire, are a leading supplier of quality custom-built cast iron radiators. This close-knit, family run business has been producing bespoke radiators for both retail and commercial outfits, for many years.
The traditional designs and appearances portray an extremely historical image, creating much interest amongst restoration enthusiasts. Paladin creates radiators for both period and new-build developments, supplying expert technical support and customer care.