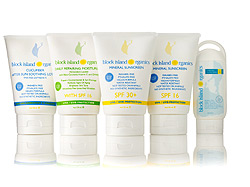 Your skin is your body's largest organ. Without proper protection the sun is its #1 enemy.
New Shoreham, RI (PRWEB) April 26, 2012
Dedicated to promoting smart fun in the sun, Block Island Organics has launched a new suncare line to kick off the upcoming 2012 summer season. With an organic, mineral-based sunscreen line providing superior UV protection, Block Island Organics creates high-quality, non-toxic, and loveable product formulations. For more information visit: http://www.blockislandorganics.com.
The mission of Block Island Organics grew from Koru Eco Spa, New England's premier eco-friendly spa, and owner Lauren von Bernuth's desire to give everyone access to safe sunscreen. She found it difficult to find products that provided the UVA & UVB protection it should without questionable ingredients.
"Koru opened in 2007 as a summer spa on an eco island surrounded by beaches, so we knew that sunscreen was an essential product to offer our guests," von Bernuth explained. "The problem was that we couldn't find a sunscreen that we liked that also had an ingredient base that we felt was safe to recommend. The consistency of the few 'safe' sunscreens on the market was too thick and the few products that are marketed as 'green, organic, and non-toxic' included some organic ingredients but also included parabens or other questionable ingredients. We wanted a product that we could fully support as an eco spa."
At the heart of Block Island Organics is a perfect balance of the highest quality and safest ingredients possible to prevent and counteract the negative effects of the sun, all while promoting overall skin health.
YOUR SKIN IS YOUR BODY'S LARGEST ORGAN. WITHOUT PROPER PROTECTION THE SUN IS ITS #1 ENEMY.
"In researching sunscreen I've discovered that there is a great deal of misinformation and misplaced trust between consumers and sunscreen manufacturers," von Bernuth continued. "When people are buying and placing their trust in a product to protect them from something as dangerous as cancer there should be no questions or misleading information about the efficacy and safety of the product. However, in the current sunscreen industry many sunscreens are not protecting consumers from the full-spectrum of cancer causing UV rays, or are made from ingredients with questionable safety profiles therefore misleading consumers in regards to the efficacy and proper usage of their sunscreen."
Block Island Organics is always made from a variety of natural ingredients including shea butter, aloe, coconut oil, grapefruit extract, cucumber, and various other herbs and botanicals. The SPF providing ingredients are the minerals zinc oxide and titanium dioxide. All products are Paraben-free, Pthalate-free, and Synthetic Ingredient-free. Each is made with a vegan formula and an Eco Cert preservative base. The formulas are not tested on animals and are made in the U.S.
THE FOUNDING FOUR
The founding four in the new Block Island Organics line include ($22-$49):

Mineral Sunscreen with SPF 16
Mineral Sunscreen with SPF 30+
Daily Repairing Moisturizer with SPF 16
Cucumber After Sun Soothing Lotion
Additionally, the 2 oz. Travel Size Mineral Sunscreen with SPF 16 is perfect to clip onto your beach bag, your purse, or your backpack.
"I've seen firsthand the effects of the sun on skin and have studied sunscreen extensively to develop Block Island Organics," von Bernuth said. "Inspiration for our line comes from our home and the island community's devotion to environmental conservation and passion for the outdoors. We love the sun, but we encourage everyone to play smart, play safe, and protect to your skin."
About Block Island Organics
Block Island Organics is an all-natural sunscreen line inspired by our home in the smallest town in the smallest state, Block Island, Rhode Island. The sun-focused products provide the UVA & UVB protection it should without questionable ingredients that are potential serious health risks. Block Island Organics is produced by Koru Eco Spa.
For more information, please call: (401)859.1286 or visit http://www.blockislandorganics.com.
###