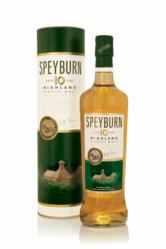 (PRWEB) April 27, 2012
Speyburn Single Malt Scotch Whisky announced a rebranding initiative that includes new packaging, a redesigned website and a customer relationship management program, Clan Speyburn. This is the first brand change of any kind since Speyburn's introduction to the US market 12 years ago. International Beverage USA is making the investment due to the brand's significant growth in the US market, advancing to the number five top single malt in 2011.
The new packaging and website enhance Speyburn's position as the whisky that best captures the spirit of Scotland's outdoor landscapes and lifestyle, while Clan Speyburn directly creates an engaging customer experience that builds brand credibility and trust.
Speyburn, recently recognized at the San Francisco World Spirits Competition (Double Gold Medal in 2012 and Gold Medal in 2011) and the Ultimate Spirits Challenge (scored 93 out of 100 points in 2012), is distilled near the River Spey in Scotland, which is known for its world-class salmon fishing. The new logo depicts a leaping salmon that catches the eye and reinforces the whisky's authentic tie to the Speyside fishing region. The bottle itself shows an illustration of the Speyburn distillery nestled in the Scottish Highlands. Each bottle carries the distiller's signature, communicating authenticity, craftsmanship and pride. The clean, elegant graphics and green, white and gold color scheme convey a tranquil, outdoor feel and reinforce Speyburn's image as a down-to-earth, approachable brand.
The proprietary bottle shape establishes a strong presence with "broad shoulders" that are wide at the top and narrow at the bottom. It is taller than most competitors so it stands out at retail. Speyburn is being packaged in cylindrical containers that introduce the fresh color motif on the label.
Clan Speyburn provides customers with up-to-date information about the distillery and brand. Customers receive quarterly printed and bi-monthly email newsletters, as well as exclusive access to a limited edition Clan Cask bottling.
According to International Beverage President Pat Graney, "People who enjoy the outdoors – whether fishing, camping or just relaxing – tell us that Speyburn is their everyday Scotch. Our rebranding conveys the peace and tranquility outdoorsmen enjoy, while being more contemporary and vibrant. Clan Speyburn is our way to reach out to customers and give them more of the Speyburn experience."
Speyburn's new image represents a timeless quality and communicates its masculinity, authenticity and genuine history and heritage. Bottles are packed in a perforated full-color case with the following features:

Tear-open for ease of display on floor
Printed 4 sides to create immediate, impactful display
Both 10yo and Bradan Orach can be mixed
About Speyburn
Speyburn Highland Single Malt Scotch Whisky was first distilled on the 15th December 1897, the diamond jubilee year of Queen Victoria. To ensure that whisky was made in the jubilee year, men worked through the night in a heavy snowstorm in a still-house without windows, managing to bond one single barrel of 1897 Speyburn. Today, Speyburn continues to use the time-honored traditional distillation methods that created the single barrel of the 1897 vintage. Many of the original distillery fittings remain, and are still used, in this very traditional Malt Whisky distillery.
About International Beverage
Speyburn is produced by International Beverage Holdings, Limited. (http://www.interbevgroup.com) IBHL was established in 2005, as the international arm of ThaiBev, one of South East Asia's leading alcohol beverage companies. With a network of regional offices in Asia, Europe and North America, the company is responsible for the production, sales, marketing and distribution of a portfolio of premium global brands in more than 80 countries and territories. The company's success is built on a strong understanding of local cultures and markets along with the creation of a global operational network.