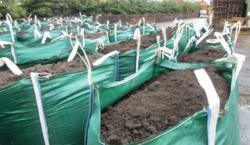 Working together, we can all help to try and keep water usage down... As a turf grower, that's just as important for me as it is for anyone else.
(PRWEB UK) 27 April 2012
Online Turf, in conjunction with sister company Online Soil, have created a new product to try and help customers make better use of rainfall in their garden. The new Water-Retaining Top Soil Bulk Bag has a higher percentage of compost than most top soil available on the market, and this allows it to efficiently store water longer than other top soils.
With drought conditions looking to continue until at least winter 2012, it's important to make the best use possible of any rain that does come our way. Recent rainy conditions make it seem like that the drought is soon to be over, but the Met Office makes the crucial point that even heavy rainfall won't make an impact on compacted ground – instead the water will just run off, causing flash flooding as well as not allowing the ground to take in vital nutrients. (http://metofficenews.wordpress.com/2012/04/20/guest-blog-its-raining-why-have-we-still-got-a-drought/) Using the Water-Retaining Top Soil will help to break up compacted ground, give exhausted soil some much needed nutrition, and also absorb natural rainfall for longer.
"Many gardeners are naturally worried about the long-term impact of these changeable conditions on their gardens," says Online Turf M.D. Ian Mercer. "However, making long-term changes to a much-loved garden can be a difficult job. That's why we've created the Water-Retaining Top Soil, using the natural properties of compost in combination with the usual garden improving effects of top soil."
Online Turf, like many companies in the turf industry, have been worried about the impact of water restrictions on their customer base. In conjunction with the TGA, they're looking for ways to try and help keep overall water consumption down whilst still allowing new lawns to be laid and look great. It's through new innovations like this that allow the general public to preserve water while still being able to have the verdant garden that the British public expects.
Other tips for preserving water in the garden includes using watering cans instead of hosepipes, even in areas without water restrictions, not watering established turf, using 'grey' water (i.e. bathwater, etc) for watering hanging baskets and even setting up a water butt to take advantage of rainy times and increase stores of 'grey' water. (http://www.guardian.co.uk/environment/2006/mar/31/water.uknews) "Working together, we can all help to try and keep water usage down," continues Ian. "As a turf grower, that's just as important for me as it is for anyone else."
The Water-Retaining Top Soil is on sale at Online Turf and Online Soil now, with prices starting from only £73.00 for a bulk bag. Online Turf staff are always available to contact for customers who might have any concerns about using the new soil or want any tips on maintaining their lawns in drought conditions.