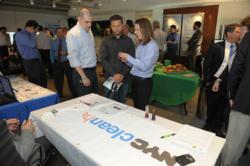 New York, NY (PRWEB) April 26, 2012
Cooper Square Realty, the premier residential property management company in New York City, and its energy affiliate, FS Energy, hosted a Sustainability Expo on Friday, April 20 to commemorate Earth Day. More than 300 building superintendents, resident managers and employees attended the expo, which showcased a broad spectrum of the most interesting and innovative goods, services, and technologies addressing sustainability in the multi-family residential market.
"As the largest residential management company in New York City, Cooper Square Realty is in a unique position to educate our employees and building staff on the benefits – both in terms of cost reduction and environmental impact – of sustainable building systems and practices," says David Kuperberg, CEO of Cooper Square Realty and FS Energy. "By providing this platform for more collaboration and awareness, attendees gained knowledge that will help to 'green' the 500-plus condos, co-ops and rental properties that we manage."
The event featured nearly 20 suppliers who provide services that are better for your health and friendlier to the earth. Demonstrations included sustainable cleaning products and supplies, lawn and tree care, water management, dry cleaning, lighting, heating controls and pest extermination. Displays also highlighted onsite shredding services, electronics recycling, Zipcar, the world's largest car sharing service, and Re-fashioNYC, a clothing recycling partnership with the City of New York.
Several seminars were held during the event. Isabelle Silverman from the Environmental Defense Fund and Ken Camilleri from ICF International addressed the phase out of "dirty" oil in New York City; Dr. Ron Vitori, LEED AP, of Green Peak Group, explained lighting retrofit projects and their associated energy savings, cost savings and environmental benefits; FS Project Management showcased the ecological, technical and economic benefits of green roofs; and FS Energy addressed why energy efficiency is the most important part of the green movement.
Participating suppliers and organizations included Bug Doctor/Dow Agro Sciences, Edible Schoolyard NYC, Environmental Defense Fund, FS Energy, FS Project Management, Green Apple Cleaners, Green Peak Group, Heat Timer Corp., ICF International, JAD Corp. of America, National Maintenance Supplies, New York Water Management, Pearlgreen Corp., Proshred Security, Re-fashioNYC, Queens Garden Florist & Landscape Design, Siplast, The 4th Bin and Zipcar.
Attendees "adopted" plants, purchased home grown herbs, and made a "Sustainability Pledge" to reduce their use of non-recyclable materials. Everyone received a reusable Cooper Square Realty lunch tote and ceramic mug, which ties in with the company's commitment to reduce paper and plastic use in the office. Attendees also were offered chair massages to naturally renew their energy.
More than $2,000 was raised through purchases of plants and herbs at the event. All proceeds were donated to Edible Schoolyard NYC, which aims to provide NYC's one million public school students with the knowledge and skills required to make healthier choices for themselves and for our planet.
ABOUT COOPER SQUARE REALTY
Cooper Square Realty is the premier residential property management company in New York City and also offers project management and energy management services. Cooper Square's portfolio comprises upwards of 500 condominiums, cooperatives, and rental properties with an aggregate value of over $6 billion. The company manages more than 70,000 residences that are home to more than 200,000 people. These include distinctive lifestyle properties such as The Plaza Residences, luxury residential towers such as New York by Gehry, new developments, prewar landmark buildings, and apartment complexes. Further information is available at http://www.coopersquare.com.
Cooper Square Realty is a subsidiary of FirstService Residential Management (http://www.fsresidential.com), North America's premier residential property management company, overseeing more than 5,600 properties and over 1.3 million residential units. FSR is a subsidiary of FirstService Corporation (NASDAQ: FSRV TSX: FSV), a global leader in the rapidly growing real estate services sector.
ABOUT FS ENERGY
Based in New York City and founded in 2009, FS Energy is the energy management and advisory subsidiary of FirstService Corporation. FS Energy is successfully reducing energy costs and carbon while increasing the asset value of FirstService managed properties through customized energy management strategies. FS Energy takes a cutting edge approach, leveraging its portfolio size and groundbreaking proprietary data collection to determine the most appropriate cost and carbon reduction initiatives. Already a leader in New York City, FS Energy is well on its way to achieving its goal of reducing energy cost and carbon by 25% across its New York City portfolio by 2013. More information about FS Energy is available at http://www.FSEnergyServices.com.
ABOUT FIRSTSERVICE
FirstService Corporation is a global leader in the rapidly growing real estate services sector, providing a variety of services in commercial real estate, residential property management, and property services. As one of the largest property managers in the world, FirstService manages more than 2.3 billion square feet of residential and commercial properties through its three industry-leading service platforms: Colliers International, one of the largest global players in commercial real estate services; FirstService Residential Management, the largest manager of residential communities in North America; and Property Services, including Field Asset Services, one of America's largest providers of property preservation and distressed asset management and FS Brands, one of North America's largest providers of property services through franchise networks.
FirstService generates over US$2.2 billion in annual revenues and has more than 23,000 employees worldwide. More information about FirstService is available at http://www.firstservice.com.