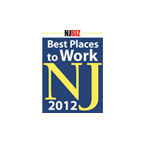 "... at the end of the day, our people and our team approach are the keys to customer satisfaction and sustained success."
Parsippany, NJ (PRWEB) April 30, 2012
The Casey Group, a provider of IT business solutions, has been named one of the Best Places to Work in New Jersey for the second consecutive year. The Casey Group provides a dynamic environment for employees that includes comprehensive medical benefits, 401K plans, a company sponsored local gym membership and an emphasis on community involvement.
"I am extremely proud that The Casey Group has been named one of the Best Places to Work in New Jersey 2012," said Richard Casey, the company's chairman and chief executive officer. "It is even more gratifying to be a repeat winner because it demonstrates that we have created an enduring company culture and atmosphere that fosters teamwork and innovation. While we provide clients with best in class IT business solutions and applications, at the end of the day, our people and our team approach are the keys to customer satisfaction and sustained success."
"While winning the Best Place to Work award for two consecutive years is a great honor and achievement, it is more important to know that we have created an environment that brings out the best in our people and creates a customer first mindset that enables us to deliver outstanding services to our clients. Our company strength lies within our technology professionals who have the collective depth and breadth of education and experience to advise, recommend, architect, implement and manage projects of all sizes, complexity and duration," added Casey.
Produced by NJBIZ, the Best Places to Work in New Jersey program identifies, recognizes, and honors the top places of employment in New Jersey that benefit the state's economy, its workforce and businesses. The program is made up of small/medium-sized companies (15-249 employees) and large-sized companies (more than 250 employees). The Casey Group has been named one of the Best Places to Work in New Jersey in the medium-sized category.
NJBIZ, program sponsors and partners honored this year's Best Places to Work during an awards dinner and ceremony on Wednesday, April 25, 2012 at the Hilton East Brunswick.
About The Casey Group
Since its founding in 1989, The Casey Group, Inc. has been serving clients ranging from local professional services firms to Global Fortune 500 companies. From managed IT services and legacy modernization to innovative cloud and mobility applications, The Casey Group partners in the design, delivery and management of major IT based business improvements for clients; delivering success through operational efficiencies, service improvements, cost reductions, growth, and profitability. The Casey Group is a Microsoft Certified and an IBM Advanced Business Partner, has an award winning corporate culture: Best Places to Work in NJ 2011& 2012 with an overarching customer first mind set: 2012 Dun & Bradstreet Overall Performance rating of 93%.
To learn more about The Casey Group, visit http://www.thecaseygroup.com or call 877-227-3947.