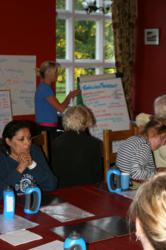 The Fitness Retreat Is Hard Work But Great Fun
(PRWEB UK) 29 April 2012
Fitness Boot Camp clients come from all over, often with low personal esteem that has been triggered by an emotional occurrence or stress related lifestyle.
Others are just aware it is time to join the weight loss camp to kick start a new improved healthy routine and are ready to be motivated to change their lives for the better.
Grief, unhappy relationship or even a medical condition all effect the way the body copes and reacts to a person's mental state.
A FitFarms weight loss boot camp therefore has an holistic approach, with a personal behaviour plan.
It is not just about weight loss and fitness it also covers the client's complete physical and mental well-being throughout the week's course.
The trainers and personal mentors encourage a more positive relationship with nutrition and exercise and making sure the results are sustainable.
Past guests have all gained a greater level of self confidence and body image in addition to considerable weight loss.
This week FitFarms will be trying to encourage their past guest to rejoin the retreat by giving them a £100 discount.
A military trained Boot Camp however concentrates on endurance exercises to make one fit, developing muscles and stronger physiques in order to increase the level of fitness and increase strength and flexibility.
Classes encourage a client to push oneself to become fitter and leaner than ever before.
Of course there is a place for a military style boot camp, popular with sports people, and also celebrities whose body image is constantly scrutinized by the media.
The popularity of retreat style programmes have grown hugely in the last five years. FitFarms was first on the market and is still seen to be the market leaders.
The summer is the time when they tend to grow the most especially the fitness boot camps that operate in the parks up and down the country.
The FitFarms weight loss and fitness programme does not just guarantee weight loss it guarantees a healthier happier lifestyle for when their guest finish the retreat.
Guest must hurry to book a space because as soon as the beginning of the summer starts the UK's No.1 fitness camp starts to fill up.