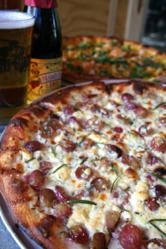 "While the name 'Pies & Pints' conveys our offerings, we want to explore other name options as we position Pies for expansion."
(PRWEB) April 28, 2012
Pies & Pints, the popular West Virginia restaurant known for unique pizzas and craft beer, is giving away free Pies & Pints Pizza to one lucky winner.
In 2011, Pies & Pints founders sold a controlling interest in the company to Pies & Pints Development Partners who plan to grow the Pies & Pints brand. As Pies & Pints prepares to expand into new areas, it is also looking for a potential new name for future restaurants.
According to Rob Lindeman, who holds a controlling interest in Pies & Pints, "While the name 'Pies & Pints' conveys our offerings, we want to explore other name options as we position Pies for expansion."
Those interested in submitting a suggested name should visit the Pies and Pints website to share their entry. Entries will be reviewed by Pies & Pints management, and the winning name will be selected from those submissions. People can enter as many times as they'd like during the two week period.
The creator of the winning name will receive one free large pizza every week for a year from either the Fayetteville or Charleston Pies & Pints locations.
Pies & Pints was founded by Kimberly Shingledecker and David Bailey in 2003 in Fayetteville, West Virginia. In 2010, the Charleston location opened. The new owners have stated that it intends to expand and open more locations throughout the east coast and midwest.