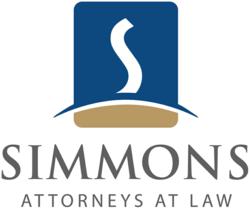 We are proud to once again provide a high-level of support to further their mission of advocating for peer-reviewed research, developing community outreach and providing patient suppor
Alton, IL (PRWEB) April 27, 2012
Simmons Firm officials announced today a contribution of $100,000 to the Mesothelioma Applied Research Foundation, the leading nonprofit organization dedicated to funding peer-reviewed research for mesothelioma, a rare asbestos-related cancer. The donation will help support the Meso Foundation's Symposium, which will take place July 12-13 in Washington, D.C. Registration opened in March.
"We are appreciative for all the work the Meso Foundation does on behalf of not only our own clients, but for all individuals and families affected by this deadly disease. We are proud to once again provide a high-level of support to further their mission of advocating for peer-reviewed research, developing community outreach and providing patient support," said Chairman John Simmons.
The foundation unites doctors, researchers, patients and families, legal advocates, union representatives and other affected and concerned individuals to collaborate and advance mesothelioma research. To date, the foundation has funded over $7.6 million through its peer-reviewed grants program. The Simmons Firm is the foundation's top cumulative donor with more than $2 million contributed to its programming.
"The Meso Foundation Symposium brings together an impressive array of experts, giving patients and their families instant access to the most up-to-date information about mesothelioma treatments and science. Supporters like the Simmons Firm help us ensure that all those who need it have access to this important service," said Kathy Wiedemer, Meso Foundation's executive director.
Every year, approximately 3,000 Americans are diagnosed with mesothelioma, an often fatal cancer that aggressively invades the lining of the lungs, abdomen or heart. The cause of mesothelioma is linked to asbestos exposure. However, the cancer doesn't develop until a latency period of 15 to 40 years after a person's exposure.
"As a national mesothelioma law firm, we have seen the devastation a mesothelioma diagnosis causes on individuals and families throughout the country, and we are committed to supporting mesothelioma victims in and out of the courtroom," Simmons said. "By supporting non-profit organizations like the Meso Foundation, we hope that someday a cure will be found and this disease will no longer claim the lives of so many good people who were diagnosed through no fault of their own."
For more information about this year's symposium, visit the Meso Foundation web site.
About Simmons Browder Gianaris Angelides & Barnerd LLC:
The Simmons Firm, headquartered in Alton, Ill., is one of the country's leading asbestos and mesothelioma litigation firms. With offices in Illinois, Missouri and California, the firm has represented thousands of patients and families affected by mesothelioma throughout the country. The Simmons Firm has pledged over $15 million to cancer research and proudly supports mesothelioma medical researchers throughout the country in order to find a cure. For more information about the Simmons firm, visit http://www.simmonsfirm.com.