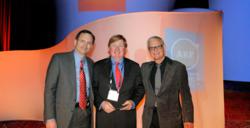 "I feel tremendously honored to have the innovative work we've done—and continue to do—receive such high praise from an organization as prestigious as the ARF."
Boston, MA (PRWEB) April 28, 2012
The Advertising Research Foundation (ARF) has selected Kevin J. Clancy, Ph. D., chairman of Copernicus Marketing Consulting and Research, as the grand prize winner of the 2012 Great Minds Awards in Innovation.
"When I opened the door to Copernicus almost 20 years ago, I dedicated the firm to pushing the envelope of marketing and advertising research," Kevin explains. "I feel tremendously honored to have the innovative work we've done—and continue to do—receive such high praise from an organization as prestigious as the ARF."
Founded in 1936 by the Association of National Advertisers and the American Association of Advertising Agencies, the ARF is widely considered the industry's leading authoritative source of research-based advertising knowledge. The organization received more than 300 nominations for the 2012 Great Minds Awards, which recognizes the development of the most innovative research ideas and their contributions to the marketing and advertising industries.
"We had an outpouring of submissions this year recognizing the great minds in advertising research. The ARF is so proud to recognize these accomplishments, and celebrate those who truly advance the art and science of our industry," said Bob Barocci, president and CEO, ARF.
The panel of judges, all members of the advertising and research communities, selected 50 finalists from among the nominations and chose Kevin as the grand prize winner in the innovation category.
In his 9 co-authored marketing and social science books and more than 400 published papers and presentations; in his teaching at the Wharton School and Boston University; and in the three companies which he founded, Kevin has long been a pioneer in innovative marketing consulting and research.
For over three decades, he has worked with some of the best known and most loved consumer and B2B brands around the world to launch transformational marketing strategies. The innovations he has introduced to the practice marketing also earned him a 2008 induction into the esteemed Marketing Research Hall of Fame.
Among notable innovations over the course of his career:

For the past 20+ years, Kevin has shaken the profession with his published work and speeches on the topic of marketing failures. He was the first practitioner or academic to report on the negative ROI of most marketing programs, including an article in The Harvard Business Review. Kevin and his co-author Randy Stone investigated more than 300 cases where econometric models had been used to evaluate marketing performance. They discovered that average ROI was negative and for packaged goods specifically, it was a paltry 45 cents on the dollar.
In recent years, he has demonstrated that conventional attitudinal, lifestyle, needs state, behavioral and demographic approaches to market segmentation are not only weak in terms of actionability, but also have little to do with the profitability of alternative targets. Today, his ideas, methodologies and models on the topic of segmentation are recognized as breaking news in market segmentation practice. His work culminated in the publication of a chapter on state-of-the-science market segmentation in the recently-published anthology, Leading Edge Marketing Research.
Kevin has developed unique tools for marketing best practices auditing, measuring buyer involvement, marketing IQ, brand equity and product trial given awareness and availability. He has created and published mathematical models for simulating new product performance, optimizing a media plan, forecasting new product and new campaign awareness and simulating the performance of alternative positioning strategies.
He has published R&D studies on the reliability of advertising testing, measuring dissimulation in survey studies, assessing problems with acquiescence and social desirability response set, measuring the relationship between opinion leadership and blogging across 24 different product categories and the positive relationship between television program involvement and advertising effectiveness.
Kevin's latest innovation is a positioning simulation model which is not grounded in problematic "derived importance" analysis; it doesn't rely on statistical/correlation analysis at all. A key to the new model is a construct labeled "Behavioral Predisposition," a measure which captures perceptions of each brand on every attribute and benefit, multiplied by the same attribute's motivating power for a given respondent, and then summed over all attributes and benefits.
Lately Kevin has focused his energy writing and speaking about inspirational, aspirational, transformational marketing strategies. By transformational he literally means a strategy that is so strong, so powerful, that it changes brand trajectories, career paths, sometimes entire companies and even industries. His firm has developed a book of transformational case histories to demonstrate the power of such an approach. The key to such a strategy is finding the most profitable target group, developing a powerful preemptive positioning strategy based on genuine buyer needs and harnessing the best of contemporary digital technology.
To find out more about Kevin and his contributions to the field of marketing research, visit copernicusmarketing.com/greatminds.
Peter Krieg, president and CEO of Copernicus, believes there are few people in the marketing and advertising research community who have the level of creativity and passion Kevin has for developing tools and perfecting methods to help businesses make more profitable decisions.
"Kevin thrives on big, mission-critical marketing and management problems. With all the on-going changes in marketing today brought on by digital media, he is really at his innovative best."
Copernicus is a research-based marketing consulting company in the business of transforming companies. The firm uses frontline experience, business-building ideas, and state-of-the-science research to develop, plan, and implement marketing strategies that change brand trajectories. Visit copernicusmarketing.com for more information about the firm.