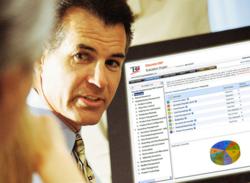 Partnering with TEC strengthens our market-leading technology consultancy in delivering software assessment and selection projects. - Partner Richard Taylor, The Birchman Group
Montreal, Canada (PRWEB) April 27, 2012
Montreal (Canada)–based technology company Technology Evaluation Centers (TEC) has partnered with international consulting firm The Birchman Group in delivering software assessment and selection services to the UK market. As a local representative in the UK, Birchman is now certified to deliver TEC's proprietary technology and elevate their already strong IT consultancy. This new agreement with Birchman marks the first UK partnership in TEC's partnership program.
Consultant partnership agreements like the one signed with The Birchman Group allow TEC to deliver its technology assessment and software selection services to clients around the world. Working with local consultants means that clients get face-to-face service from consultants who understand the unique aspects of their core markets. TEC's network of consultant partners now covers Western Europe, Australasia, and North America.
Lorne Goloff, TEC's vice president of selection services, remarked, "We are so pleased to be working with The Birchman Group. We have a great respect for their market presence and high quality of service. We believe our partnership will greatly benefit the rapid growth objectives of their business."
TEC, a world leader in software advisory services, has helped their clientele with critical technology decisions since their founding in 1993. The company offers a broad spectrum of services for the software buyer, including research, software purchasing, and management advisory services, as well as project management services.
The Birchman Group is an international consulting firm with offices across the globe that provides consulting services, solution delivery, and managed services. The 10-year-old firm has serviced industry-leading companies in a variety of sectors, including retail, oil and gas, energy, and manufacturing. Partner Richard Taylor at The Birchman Group stated, "Partnering with TEC strengthens our market-leading technology consultancy in delivering software assessment and selection projects."
To learn more about The Birchman Group's services in the UK, visit http://www.birchmangroup.com.
For more information about Technology Evaluation Centers' partnership programs, visit TEC Consulting Partners Information.