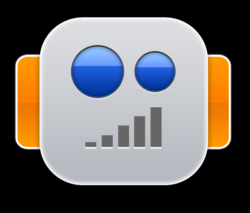 Digi is humungous fan of the Pennsylvania-based, blue-collar hip hop scene.
Pittsburgh, Pennsylvania (PRWEB) April 29, 2012
appsbar.com has recognized "Mac Miller" as the appsbar App of the Day because Digi is a humungous fan of the Pennsylvania-based, blue-collar hip hop scene.
It's also a great example of how new musicians are using app platforms to get new fans and connect with faithful followers. Digi said that if you haven't heard of Mac Miller yet, you've either been trapped under a large piece of furniture or completely out of the pop culture loop. The best way to get introduced is to download this app for what the app builder himself promises to be filled with "Mac Miller events, photos, videos and constantly updated list of hits from Mac Miller and the Most Dope crew."
According to the Official Mac Miller website, "in a blossoming hip-hop hotbed of talent, Malcolm 'Mac Miller' McCormick is next up out of Pittsburgh, PA. Mac caught the eyes and ears of Rostrum Records, inking a deal in July 2010. A multitalented musician who can play numerous instruments and a young novice of the freestyle/cipher/battle circuit of his hometown, Mac has been paving his way to superstardom in his blue-collar hometown for years."
Where the app can be downloaded for free:
Google Play
Why Digi likes it:
This app is a perfect example of how up and coming (and already here) musicians can get in front of new audiences. App platforms have become the hottest way to promote musicians, and this Mac Miller app is a prime example. Made with appsbar, this app was free to make using appsbar's iPhone app builder, Windows app builder or Android app builder, and even better, it's free to download.
How anyone can make an app:
Simply join the community with an email address and get started on an app. Digi, our loveable robot app coach, is there to help at each step.
About appsbar:
http://www.appsbar.com was launched in 2011 to fill the gap between over-simplified apps and costly, professionally-produced apps. appsbar.com apps each average 500 to 1,000 downloads within the first day of being published. In 2012, appsbar became the leading developer of Android apps with more than 10,000 published. appsbar was developed by Appsbar Inc., a company founded by Scott Hirsch. appsbar has grown to a community of everyday app developers and opened the way for businesses and people to engage with friends and brands online through the development of customizable digital tools. For company contact information and partnership opportunities, visit http://www.appsbar.com
For More information:
Joe McGurk
PR(at)appsbar(dot)com