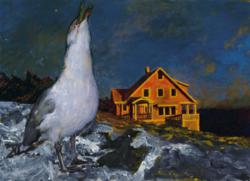 Rockland, ME (PRWEB) April 26, 2012
On Saturday, May 12, the Farnsworth Art Museum (http://www.farnsworthmuseum.org) in Rockland, Maine, will open a major exhibition in the museum's Wyeth Center, entitled Jamie Wyeth, Rockwell Kent and Monhegan. The show is scheduled to run through December 30, 2012.
Jamie Wyeth's connection to Monhegan dates to the late 1950s, when he first went there with his father, and he has continued to paint there ever since. His connection to fellow artist Rockwell Kent goes back nearly as far. Early in his career Wyeth bought several pen and ink drawings by Kent used as the sources for his illustrations to Herman Melville's Moby Dick, one of Kent's most renowned book illustration projects. Subsequently, Wyeth acquired what was Kent's last home and studio on Monehgan, and then bought several of Kent's paintings from his first period on the island around 1907. This exhibition will focus on works by the two artists done on Monhegan, and how the scenic island has inspired their work.
The exhibition opening will be celebrated on Friday, May 11, at a members-only preview and reception from 7 to 8:30 p.m. in the museum's Wyeth Center at the corner of Union Street and Grace Street, in Rockland.
The primary media sponsor for this exhibition is Maine Home + Design. This exhibition is made possible in part thanks to the generous support of: Anonymous, The Crosby Kemper Foundations, Mr. Richard Gilder and Ms. Lois Chiles, Mr. and Mrs. Joseph Pyne, John and Anne Surovek, and Mr. and Mrs. George Twigg III.
In association with this exhibition the Farnsworth will present the following lectures and talks: on Saturday, May 12, at 2 p.m., Fertile Ground: Rockwell Kent on Monhegan Island with Scott R. Ferris; on Friday, July 6, at 1 p.m., Gallery Talk with Farnsworth Chief Curator Michael K. Komanecky; on Thursday, July 12, at 6 p.m., Wyeth Day Lecture with N.C. Wyeth biographer David Michaelis; on Wednesday, July 25, at 5:30 p.m., Realism and Resonance: George Bellows Paints the Urban Landscape and the Sea, with independent scholar Marianne Doezema; on Friday, August 3, at 1 p.m., Gallery Talk with Farnsworth Chief Curator Michael K. Komanecky; on Tuesday, August 14, at 5:30 p.m., A Conversation with Jamie Wyeth and Chief Curator Michael K. Komanecky; on Wednesday, September 5, at 5:30 p.m., Rockwell Kent's Illustrations for Moby Dick, with Elizabeth Spear, Fellow in Curatorial Practice, Colby College Museum of Art.
The Farnsworth Art Museum celebrates Maine's ongoing role in American art. It offers a nationally recognized collection of works from many of America's greatest artists, with 20,000 square feet of gallery space and over 10,000 works in the collection. The Farnsworth has one of the largest public collections of works by sculptor Louise Nevelson, while its Wyeth Center features works of N.C., Andrew and Jamie Wyeth. Two National Register historic sites, the Farnsworth Homestead and the Olson House, and Julia's Gallery for Young Artists complete the museum complex. Please visit http://www.farnsworthmuseum.org for more information on current exhibitions, programs and events.