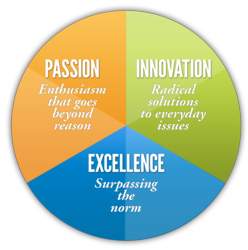 "Everything we do should be done with excellence. Our customers and staff deserve it," explains Jay Reeder, President of VoiceNation.
Atlanta, GA (PRWEB) April 27, 2012
VoiceNation, the telecommunications leader in virtual phone and live answering services is increasing the value of customer service, creating a passionate and fascinating way to match specific business needs. The new and improved strategy is stronger than ever, giving customers top notch support in customer relations, product offerings, and account management. VoiceNation continues to improve service and discover new ways to make each customers' experience a great one.
"While business continues to boom, now is the best time to WOW our customers, which means raising the bar in customer service," states Jay Reeder, President of VoiceNation. "We've deliberately formed and implemented a new customer service strategy from the inside out. Our new innovative strategy begins with our uniquely restructured corporate values and energetic office environment. We are making exciting transitions that our customers are sure to see and appreciate. It's about building better relationships."
VoiceNation believes that every encounter with a customer is an opportunity to create a meaningful experience for that individual. It's a company like no other, always putting customers and employees first by keeping open lines of communication. Customers can connect and receive support through live chat, the online customer dashboard, online contact forms, and 24-hour phone availability. Social media platforms have also proven to be a successful way to positively engage with customers as well as overcome concerns. But, what customers will begin to find is a new energy circulating the air; an amped-up personality. "We want our customers to know how wonderful they are. They should feel the excitement of what it means to work with a company on the leading edge of technology; who will provide telecommunication solutions that grow, improve and simplify their business on an every day basis," says Mr. Reeder.
In addition to ongoing staff training, company pep rallies, and strategic business/IT development, VoiceNation is updating its customer retention program. Mashable.com recently reported, there are so many different factors that must work together perfectly within a company to ensure that fans of your brand stay happy.
VoiceNation believes success comes from a combination of employee and customer satisfaction. It's a place where employees enjoy coming to work; a fun environment that challenges and supports career growth. In addition, complete business achievement lies in the ability to meet consumer demands through innovative technology and building customer loyalty through overall brand status.
"Everything we do should be done with excellence. Our customers and staff deserve it," tells Mr. Reeder.
About VoiceNation:
VoiceNation, America's telecommunications leader in live answering and virtual receptionist services opened their Next Generation call centers in 2009. Founded by President Jay Reeder, the company has grown to serve more than 40,000 customers including FEMA, Blue Cross/Blue Shield, Dell, AIG and the U.S. Coast Guard. They leverage the very latest in proprietary technology solutions in order to deliver quality call answering services at the lowest cost to their customers. To learn more about VoiceNation Live and their services, please visit http://www.qualityansweringservice.com.
For more information, contact:
Ashley Pardue
Media Relations
1.866.766.5050, ext. 107
###