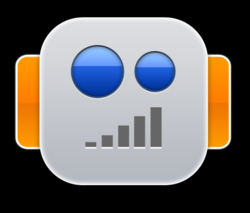 whatever, don't download this app and keep your crummy job.
New York, New York (PRWEB) April 28, 2012
appsbar.com has recognized "TMJ" as the appsbar App of the Day because in this economy even robots need help finding work in New Zealand.
This Android app delivers quick access to Trade Me Jobs' search function and social media pages. If you're not familiar with TMJ, maybe you're happy with your current job and don't need to have an app connecting a staggering 2.5 million registered users to 10,000 jobs, a way to search for six-figure salary paying jobs, and an email alert for when your next dream gig is posted. Digi said "whatever, don't download this app and keep your crummy job."
Where the appsbar app can be downloaded for free:
Google Play
Why Digi likes it:
This app is a perfect example of how up and coming (and already here) musicians can get in front of new audiences. App platforms have become the hottest way to promote musicians, and this Mac Miller app is a prime example. Made with appsbar, this app was free to make using appsbar's iPhone app builder, Windows app builder or Android app builder, and even better, it's free to download.
How anyone can make an app:
Simply join the community with an email address and get started on an app. Digi, our loveable robot app coach, is there to help at each step.
About appsbar:
http://www.appsbar.com was launched in 2011 to fill the gap between over-simplified apps and costly, professionally-produced apps. appsbar.com apps each average 500 to 1,000 downloads within the first day of being published. In 2012, appsbar became the leading developer of Android apps with more than 10,000 published. appsbar was developed by Appsbar Inc., a company founded by Scott Hirsch. appsbar has grown to a community of everyday app developers and opened the way for businesses and people to engage with friends and brands online through the development of customizable digital tools. For company contact information and partnership opportunities, visit http://www.appsbar.com
For More information:
Joe McGurk
PR(at)appsbar(dot)com