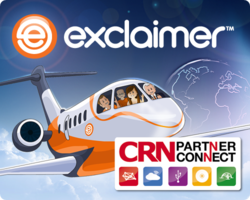 Resellers here will get a preview months before the rest of the world
London, UK (PRWEB UK) 26 April 2012
CRN Partner Connect will host a secretive pre-launch unveiling of Exclaimer's next Exchange product, the Exchange signature software company announced.
'Every detail of this is being kept completely under wraps,' clarified Neal Stanborough, Exclaimer's marketing manager, 'but not at CRN Partner Connect.
'We've defined the way 37 million users manage signatures for Outlook (and Exchange), auto-replies, and more – now we're entering a new, yet familiar, field.
'We want to start this fresh foray into a tried and trusted technology the right way – at an expert-exclusive event in our home market.
Visitors can get Exclaimer's 38-page, full-colour white paper on providing better email signatures, the digital version on a free USB wristband and their 'Server Dude' t-shirt – to celebrate the World Tour.
Exclaimer say the UK has always been a valued region for them, so releasing their most precious project at a British event was essential – not just to show solidarity, but to connect with domestic resellers.
'We may sell worldwide, to massive firms abroad and at home, but the UK will always have a particular significance,' explained Andrew Millington, Exclaimer CEO.
'Resellers here will get a preview, guides and more, months before the rest of the world even knows what it's for – that's our dedication to our UK user-base.'