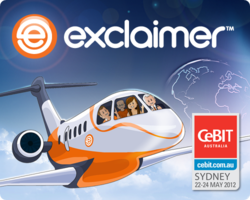 We have always focused on the Australian market with intensity
Sydney, Australia (PRWEB UK) 26 April 2012
Exclaimer will unveil its confidential new project at CeBIT Australia, the Exchange signature software provider announced.
'A privileged, advance demo was the only way to kick off our biggest 2012 launch,' suggested Neal Stanborough, Exclaimer's marketing manager.
'Demos, videos, how-to guides and more are on offer – exclusively to CeBIT Australia visitors, ahead of our global release.
'We've been working on a tool that we think will play a big role in their work – so we want them to play a big role in our launch.'
The new application, Exclaimer believes, brings their singular simplicity and solidity to a new email feature. 37 million users already use their software to manage signatures for Outlook, auto-replies, Active Directory photos and more – they explain.
They want users not just to see the new product, but get advice, support and material about the products they use – or need to use.
'We have always focused on the Australian market with an acute intensity,' Andrew Millington, Exclaimer CEO delineated, 'providing support during their working hours, opening a Sydney office, selling in Australian dollars – this is what we do.
'It's why CeBIT Australia is the perfect place to give our users – and others like them – an exclusive first look at our biggest product this year.'