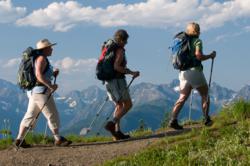 We are currently living in the the most unnatural socio, economic and cultural time in the last 150,000 generations
British Columbia, Canada (PRWEB) April 30, 2012
Despite attempts by the modern world to exercise and eat carefully, the general population constantly faces the daunting task of unloading unwanted, extra fat. More people are overweight or obese today than in any other time in human history. Diets promising weight loss don't offer long term results... And exercise, while of great benefit, can't control the battle of the bulge on its own.
The reason for the ongoing struggle against weight gain lies in the habits surrounding our cultural and lifestyle practices. According to Program Director at Mountain Trek's Kirkland Shave, "We are currently living in the the most unnatural socio, economic and cultural time in the last 150,000 generations." Specifically, the natural design of the human body and it's metabolism works completely opposite to the lifestyle practices chosen by most people today. These choices negatively affect how the body uses or stores energy and instead of muscle, you get fat. "It's not just what you shouldn't eat so much as when you eat it and what you're eating at the time that has the biggest impact on your blood sugar balancing hormones."
There are two metabolic phases in the human body. The first is the anabolic or "growth" phase and the second is the catabolic or "decay" phase. The human body has been genetically designed to shift from growth to decay and back seasonally, like most animals, for survival. However, with the onset of agriculture, and finally refrigerators, humans changed how and what they consume. " We have learned, over the last 10 years in our Program at Mountain Trek, that if we provide a steady intake of food over the active day, and reduce calories in the inactive evenings, our participants not only stop storing fat, but a metabolic shift happens that switches bodies to a fat burning mode.
Mountain Trek employs practices that follow the Paleolithic Diet or Stone Age Diet, which involves dramatically reducing or removing the consumption of sugars entirely. A number of studies offer positive results in combating chronic diseases including high blood pressure, irritable bowel syndrome and type 2 diabetes simply by changing the diet, not dieting per se. A study by the NCBI for the US National Library of Medicine National Institutes of Health shows metabolic and physiologic improvements from consuming a paleolithic, hunter-gatherer type diet.
"How we live in our recent, urban industrial world is the root cause of our fat storage epidemic," says Shave. We are primarily sedentary in our modern lifestyle while having access to more food and calories year round than in any other time in human evolution." The result is fat storage, muscle loss, bone density depletion, tissue inflammation, fatigue and systemic chronic stress. On a whole, humanity has been left with less vitality and premature aging.
To offset the many hours spent sitting at a desk or in front of the television, it is necessary to incorporate practices that shift the way we move through the world. "It is possible to control and maintain a healthy weight and fitness level," says Shave, but diets alone are not the answer, it's a complete overhaul of your lifestyle that ultimately makes the difference in losing weight and keeping it off." Adopting daily habits like walking to work, gardening or yoga and fundamental changes to what and when we eat help combat the effects of a sedentary lifestyle.
Mountain Trek will begin this season's program on May 5. Under Shave's guidance the boot camp style fitness and weight loss program at Mountain Trek uses formulas that boost the Human Growth Hormone (HGH) and helps participants reclaim muscle and bone density naturally. Mountain Trek uses methods that lowers cortisol, raises DHEA and melatonin in a whole body, lifestyle altering, approach to fitness and weight loss. While the core of program participants come for the weight loss benefits, the methodology of the program focuses on sustainable lifestyle changes that ensure the benefits of proper exercise and a healthy diet are realized. Cutting edge lectures on nutrition, fitness, stress and detox ensures participants return home with the knowledge and ability to ensure continued weight loss and increased fitness and health.