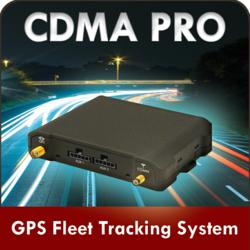 The CDMA PRO offers an affordable fleet management solution
Scottsdale, AZ (PRWEB) April 30, 2012
GPS Intelligence, a leading provider of GPS Tracking Systems for commercial and government applications, recently released the CDMA PRO GPS vehicle tracker to provide fleet manager's a cost-effective and reliable option for Fleet Tracking and Mobile Workforce Management.
The CDMA PRO enables fleet managers to quickly track any vehicle's position and movement. By providing a view of vehicle location, speed, heading, stop data, and more, fleet managers can adjust routing to minimize response times, increase fuel economy and overall productivity.
Fleet tracking also provides a reliable solution for workforce management by improving driver accountability. Eliminate unauthorized stops, inefficient routes, speeding, side trips and after-hours usage by monitoring vehicles with GPS tracking.
"The CDMA PRO - GPS Tracker offers an affordable fleet management solution that operates using the Verizon Cellular Network, widely recognized as the most reliable coverage provider in the Nation. It provides consistent, highly accurate location data with features to meet most fleet and vehicle tracking needs," said Kirk Waltz, Commercial Sales Manager.
"Small to medium-sized businesses don't often realize how much they can reduce operating costs by tracking and managing their fleet vehicles. It can really be worth the phone call to look into it."
KEY GPS TRACKING FEATURES:
● Live vehicle tracking – enables managers to view tracking as vehicles moves in real time
● Quick view data – vehicle location, speed, heading and stops displayed on tracking map
● Geo-fence boundary alerts – sends alerts when vehicles cross into or out of designated areas
● Tamper alert – sends alert when device removal or tampering occurs
● Ignition on alert – sends alert when vehicle ignition is started
● Email & SMS alert system – set designated users to receive email and/or text alerts
● Motion sensor – set a one-time alert or user-defined alerts to notify of unauthorized movement
● 5 custom inputs – vehicle-triggered alerts for trunk/tailgate/door open, etc.
● 5 custom outputs – remote user-triggered events like ignition start/stop, door lock/unlock, etc.
● GPS mapping Interface – CovertTrack©/world-class GPS tracking site
The CDMA PRO is backed by CovertTrack©, the industry-leading GPS tracking interface. The site, developed by GPS Intelligence, is designed with innovative, state-of-the-art tracking features, yet it is simple and easy-to-use. Tracking can be displayed down to sub-minute intervals.
CovertTrack© is a wholly intuitive tracking application that can have fleet managers up and tracking immediately. It is an entirely web-based application, requiring no computer software. For convenience, Fleet managers have the option of tracking an entire fleet from the office or remotely, using any internet accessible computer or pda-style cell phone.
For more information about the CDMA PRO or GPS Tracking, contact Kirk Waltz at (480) 661-1916 or kirk(at)gpsintel(dot)com.
About GPS Intelligence, LLC
Founded in 2006 in Scottsdale, Arizona, GPS Intelligence, LLC specializes in GPS tracking solutions for law enforcement, government, commercial and civilian applications. To learn more about GPS Intelligence visit http://www.gpsintel.com.