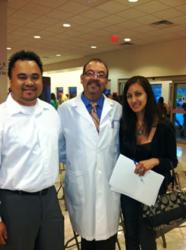 "We had given up our dream after we had failed prior treatments and exhausted our finances," said Ana Nicolas, "This gives us new hope. We are so blessed."
Las Vegas, NV (PRWEB) April 26, 2012
Sher Fertility Institute Las Vegas marks Infertility Awareness Week with an infertility seminar and IVF Donation.
Ana and Mark Nicolas are celebrating today after a big win in Las Vegas last night. Mark and Anna have new hope for having the baby of their dreams after winning a donated IVF cycle at a fertility seminar hosted by Sher Fertility Institute Las Vegas.
The seminar and IVF donation coincide with National Infertility Awareness Week, April 22-28.
One in eight couples of child-bearing age in the United States suffer from infertility yet only 10% of the one million who need treatment can afford it. Cost is a major deterrent in Las Vegas and around the country preventing couples who need help from realizing their dream of starting a family.
For Ana and Mark, it comes down to hope and faith, two words she had tattooed onto her wrists to give her new strength prior to the seminar.
"We had given up our dream after we had failed prior treatments and exhausted our finances," said Ana Nicholas, "This gives us new hope. We are so blessed."
With patients like Ana and Mark in mind, Sher Fertility created its "Giving Back" program which includes the donated IVF treatment and other initiatives including:
Donation of 24 IVF treatment cycles to deserving patients over the past two years. (The value of each donated cycle is approximately $10,000)
Free egg freezing for cancer patients through their "Fertility Rescue" program.
Free fertility evaluations at many Sher Fertility Institute offices.
Free infertility seminars at locations throughout many parts of the country.
The seminar featured a presentation by fertility doctor Jeffrey Fisch, MD Medical Director, Sher Fertility Institute. He covered topics including infertility causes, fertility treatment options, male fertility, and breakthroughs in the field of Reproductive Medicine.
"Most people take the ability to have children for granted, while there is another, less visible group that desperately want children, but can't have them without assistance. Our hope is that we can help bring that joy to some of these couples" said Dr. Fisch. "We see so many patients who are in need of fertility treatment, but don't have the financial means to access the procedures needed to start their families. This is our way of easing the burden for at least a few of them."
Helping patients gain access to treatment has long been a driving philosophy of the Sher Institute. During the last three decades, Dr. Sher and the Sher Institute have donated hundreds of free fertility treatments to patients and couples from all over the country.
About the Sher Institutes for Reproductive Medicine® (SIRM®)
The Sher Institutes for Reproductive Medicine is a national network of fertility clinics specializing in cutting-edge technology, personalized treatment and compassionate care. SIRM Founder Dr. Geoffrey Sher established the first private In Vitro Fertilization (IVF) program in the United States. Dr. Sher and his colleagues have been influential in the development of dozens of important breakthroughs in the field of reproductive care. Most recently, Sher Institute pioneered a new genetic test, Comparative Genomic Hybridization (CGH), which assesses all chromosomes in an egg or embryo, improving the birth rate per embryo transferred by a factor of at least 3 and at the same time dramatically reduces the risk of miscarriage and birth defects. This technology represents a paradigm shift in the field and brings closer the goal of a single embryo transfer. SIRM has been responsible for more than 100 births resulting from CGH-selected embryos
Further information about the Sher Institutes for Reproductive Medicine can be found on the SIRM website at http://www.haveababy.com.