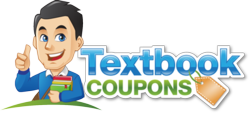 the site is estimated to have saved college students over $200,000 on their textbooks
Point Lookout, New York (PRWEB) April 27, 2012
In less then 2 years of the initial launch of Textbook-Coupons.com, the site is estimated to have saved college students over $200,000 on their textbooks. The site functions quite simply; it allows users to access coupon codes for the top online textbooks companies and minimize their book expenses.
The founder of Textbook Coupons, Jacob King an Internet Marketer and Entrepreneur, realized the need for such a site while attending the University of Oregon. Being savvy with online coupons and shopping for low priced textbooks online is how the connection was formed.
"What started as just a weekend project is becoming a widely known brand among college textbook shoppers and we are excited to continue fueling its growth," states King.
In recent months the site has undergone two major changes:
First they have added a new logo and character as the face of TextbookCoupons.com. The logo brings a clean web 2.0 feel accompanied by a friendly college student cartoon character.
"The second and most substantial change has been moving our domain to TextbookCoupons.com and removing the dash. This gives us many new opportunities to market the site and will hopefully increase our visitor loyalty and brand recognition," states King.
With the change of "Textbook-Coupons.com" to "TextbookcCoupons.com" King plans to continue investing heavily in marketing creating a strong position for the Fall 2012 textbook rush. Everyone part of the TextbookCoupons.com team are extremely excited to see the site continue its rapid growth and evolution.
"Ultimately we hope TextbookCoupons.com will become a destination for college students buying textbooks online. The #1 spot for college students to find the best deals amongst textbook retail/rental sites," concludes King.
Homepage: TextbookCoupons.com
About: Textbook Coupons was founded in late 2010 with sights set on becoming the top site for online textbook savings. Different then your typical price comparison engine, the site allows users to find the best deals on their favorite textbook companies and maximize savings. Its been a while ride since the start and everyone involved looks forward to a bright future.
Jacob King
Founder and Marketing Coordinator
Email: info(at)textbookcoupons(dot)com
Skype: +1 516 734 6037