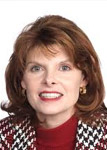 "I am confident that she will bring the required leadership necessary to keep this growing campus community moving in a positive direction," said SIU President Glenn Poshard.
Edwardsville, Ill. (PRWEB) April 26, 2012
Southern Illinois University President Glenn Poshard today introduced Julie A. Furst-Bowe (BO-vee) as the eighth chancellor in Southern Illinois University Edwardsville's history. The announcement was made in the Morris University Center's Meridian Ballroom. The selection is pending formal SIU Board of Trustees' approval at its May 10 meeting, and Bowe would officially assume her duties July 2.
"Dr. Furst-Bowe has the right combination of skills and experience to continue the momentum that SIUE has built during the past decade," Poshard said. "I am confident that she will bring the required leadership necessary to keep this growing campus community moving in a positive direction."
Furst-Bowe succeeds Dr. Vaughn Vandegrift, who is retiring effective July 1, after highly successful eight-year tenure. Search Advisory Committee Chairman John Navin, Ph.D., a professor of economics and finance in the SIUE School of Business, led the 16-person committee through the four-month national search that began with 37 candidates. The committee was comprised of faculty, staff, students and alumni. SIU System Vice President for Academic Affairs Paul Sarvela assisted the search committee in representing the president in the search.
"I want to compliment the search committee on their dedication to the task of selecting a new chancellor who fits SIUE's mission, vision and values," Navin said. "We had an impressive candidate pool that was fully vetted, and the committee proved their commitment to excellence with the recommendation of Julie Furst-Bowe."
Furst-Bowe has served as provost and vice chancellor for academic and student affairs at the University of Wisconsin-Stout in Menomonie, Wis., since 2005. In her role as the chief academic officer for the campus, she has supervised the academic colleges and the following units: Enrollment Services, Student Services, International Education, Stout Online and the Discovery Center: Applied Research, Economic Development and Technology Transfer.
Since joining UWS as a faculty member in 1990, Furst-Bowe progressed through the administrative ranks as chair of the department of communications, education and training; associate vice chancellor, academic and student affairs; and assistant chancellor, assessment and continuous improvement.
"This is an outstanding opportunity for me professionally and personally," said Furst-Bowe. "SIUE is a vibrant, growing campus with unlimited potential as a premier metropolitan university. During the process, I was particularly impressed with the faculty and staff's collegiality and collaborative nature. I know that I am stepping into some large shoes, but the challenge of keeping this institution moving upward in the ranks of higher education is one that I willingly and enthusiastically accept."
She has provided leadership to the nationally-recognized quality improvement program at UW-Stout and has served as a senior examiner for the prestigious Malcolm Baldrige National Quality Award Program. UW-Stout was the first higher education institution to receive the Malcolm Baldrige National Quality Award. She currently serves as higher education chair for the American Society for Quality and is providing leadership to STEM education initiatives on a nation-wide basis.
Furst-Bowe is recognized nationally and internationally for her expertise in quality higher education and has authored several articles and a book on this topic, Quality and Performance Excellence in Higher Education. She recently edited a book on advancing STEM education and is an editor of the International Journal of Excellence in Education. She is a founding board member of the National Consortium for Continuous Improvement in Higher Education and also serves on the Wisconsin Center for Performance Excellence and Sacred Heart Hospital Board of Directors.
She has served as a quality improvement consultant for numerous colleges and universities and is currently under contract to provide consulting services to Singapore's Ministry of Education, Hamdan Bin Mohammed e-University in Dubai and Ahlia University in Bahrain. She was recently selected as a Fulbright Scholar and assigned to work with a new university in Azerbaijan through the Fulbright program.
Furst-Bowe earned an Ed.D. in work, family and community education in 1995 from the University of Minnesota in Minneapolis where she also achieved a professional certificate in human resource development during the same year. She earned a master's of science in media technology from UW-Stout in 1986. The Chippewa Falls, Wis., native graduated magna cum laude from UW-Eau Claire in 1985 with a bachelor's in journalism.