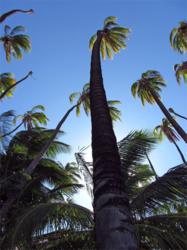 These trees range from the mammoth — the largest tree on the register, California's giant sequoia "General Sherman," is 274 feet tall with 1,321 points — to the tiny — the list's smallest big tree, a Reverchon hawthorn, only has 21 points.
Washington, D.C. (PRWEB) April 27, 2012
Today, on National Arbor Day, American Forests released the 2012 National Register of Big Trees, which shows that despite the extreme weather in the U.S. over the last year, most of the nation's champion trees endured. The new register recognizes more than 760 of the country's biggest trees, many of which lived through massive destruction over the last year.
According to reports by the National Oceanic and Atmospheric Administration, with 14 separate incidents, the U.S. experienced more billion-dollar disasters in 2011 than any year previously, and March's tornado outbreak in the South and Midwest marked the first billion-dollar disaster in 2012. But America's biggest trees survived.

The 160-foot-tall Alabama black cherry tree in Tuscaloosa, Alabama, stood tall while deadly twisters ravaged the Southeast, Ohio Valley and Midwest in April 2011 to become a new champion in 2012.
Illinois' champion Kansas hawthorn and co-champion Ohio buckeye are still standing after being buried in the 2011 Groundhog Day blizzard that blanketed the Midwest and Northeast.
The 65-foot-tall Allegheny chinkapin has recovered from a drenching during September's Tropical Storm Lee, which required nearby Harrisburg, Pennsylvania, to be evacuated because of flooding from the Susquehanna River.
Countless trees endured the drought and fires that affected and are still affecting Texas and the Southwest.
Beyond these survivors, the 2012 register recognizes almost 100 new champion trees. Some of these managed to dethrone 2011 champions because they were bigger, like the 111-foot American elm in Louisiana that stole the title from its brother in Ohio by a mere 39 points. Champion trees are determined by a simple equation: circumference (in inches) + height (in feet) + 1/4th of the average crown spread (in feet) = total points. Some of the new champions on the list represent newly nominated trees from eligible species — more than 200 eligible species currently don't have champions.
"Potential champion trees surround us," says Sheri Shannon, coordinator of American Forests' National Big Tree Program. "Many people don't realize how easy it is to find and measure a big tree. All you need is one of the many tree-identifying apps on your smartphone or a tree guide and measuring tape. The next champion tree could be in your backyard, especially if it's a species that doesn't currently have a champion."
Every year, hundreds of trees are nominated to become the champion of their species by big-tree hunters and enthusiasts across America. These schoolteachers, gardeners, engineers, arborists and even kids find trees in local parks, in national forests, on city blocks, in people's yards. These trees range from the mammoth — the largest tree on the register, California's giant sequoia "General Sherman," is 274 feet tall with 1,321 points — to the tiny — the list's smallest big tree, a Reverchon hawthorn, only has 21 points. All, though, are the biggest of their species. The 2012 register contains trees from 45 states, plus the District of Columbia. Some highlights of the list include:
The return of Hawaii to the register with six new champions — a koa, a common hopbush, co-champion palm coconuts, a wingleaf soapberry and a sea hibiscus.
Alaska's only national champion, a 37-foot tall Kenai birch that was nominated by 4th, 5th and 6th grade summer school students in Kenai, Alaska.
A new co-champion Ohio buckeye — which still isn't in the Buckeye State, as this new co-champion is in Kentucky and its co-champ is in Illinois.
Seven new champions in Washington state, four of which — a co-champion American chestnut, black hawthorn, vine maple and balsam poplar — were nominated by well-known, Pacific Northwest, big-tree hunter Jim Trainer.
Florida's continued reign as the state with the most big trees with more than 100 champions. Texas, Arizona, Virginia and California are the other top five states.
Five states without champions — Delaware, which lost its place on the list this year when Virginia nominated an Osage-orange bigger than its champion; North Dakota; Oklahoma; Rhode Island; and Wyoming.
Since 1940, American Forests' National Big Tree Program has promoted the importance of planting and caring for trees and forests in helping to sustain healthy ecosystems. The program has campaigned to locate, protect and save the biggest specimens of every native and naturalized tree species in the United States. This year's National Register of Big Trees is made possible with the continued support of American Forests' long-time sponsor The Davey Tree Expert Company.
To browse the National Register of Big Trees or find out how to nominate a big tree, visit American Forests' website: http://www.americanforests.org/our-programs/bigtree/.
# # #
About The Davey Tree Expert Company
The Davey Tree Expert Company, with U.S. and Canadian operations in 45 states and five provinces, provides a variety of tree care, grounds maintenance and consulting services for the residential, commercial, utility and government markets. Founded in 1880, Davey is employee owned and has more than 7,000 employees who provide Proven Solutions for a Growing World. Davey is the premiere sponsor of the National Register of Big Trees and has been committed to developing new technologies to support the environment for more than a century. For more information, visit http://www.davey.com.
About American Forests
American Forests restores and protects urban and rural forests. Founded in 1875, the oldest national nonprofit conservation organization in the country has served as a catalyst for many of the most important milestones in the conservation movement, including the founding of the USDA Forest Service, the national forest and national park systems and literally thousands of forest ecosystem restoration projects and public education efforts. Since 1990, American Forests has planted more than 40 million trees in forests throughout the U.S. and in 38 countries, resulting in cleaner air and drinking water, restored habitat for wildlife and fish, and the removal of millions of tons of carbon dioxide from the atmosphere. Learn more at http://www.americanforests.org.