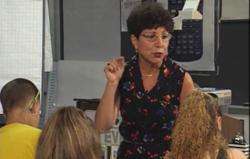 Discipline problems are so often about the teacher's relationship with his or her students, and Rick shared simple tips on how to improve teacher-student relationships—things that I'm convinced even the most resistant kids will respond to
Salt Lake City, UT (PRWEB) April 27, 2012
On Wednesday, April 25, School Improvement Network hosted a webinar that described specific strategies for managing the classroom. The webinar, titled "Stuff You Can Use for Managing and Motivating All Students" was presented by long-time educator and speaker Rick Smith, an expert in classroom management strategies. Throughout the hour-long presentation, Smith outlined:

Smith's presentation gets right to the heart of classroom management by describing the mental attitudes, emotional responses, and the physical postures that will accomplish each of the above outcomes.
"I would recommend this to any educator struggling with classroom management and discipline issues," says webinar participant Scott Bowen. "It was really fantastic. Rick's perspective was enlightening. Discipline problems are so often about the teacher's relationship with his or her students, and Rick shared simple tips on how to improve teacher-student relationships—things that I'm convinced even the most resistant kids will respond to."
To learn more about how to better manage your classroom, click here and download "Stuff You Can Use for Managing and Motivating All Students."
About School Improvement Network
Founded in 1991 by teachers, School Improvement Network provides comprehensive, research-based, online professional development anytime, anywhere. As the home of The Video Journal of Education, online professional development platform PD 360, Observation 360, the Learning 360 Framework, Equity 360, and Common Core 360. School Improvement Network resources focus on the most relevant topics (like classroom management), feature the top experts, and show educators how to put theory into practice. School Improvement Network works with thousands of schools and districts in every state and around the world and has visited over 3,500 classrooms to document best practices in action. Learn more at http://www.schoolimprovement.com
###
School Improvement Network, PD 360, and their respective logos are trademarks of the School Improvement Network. All other trademarks and registered trademarks are the property of their respective owners.
Press Contact:
Duane Sprague
School Improvement Network
801-758-9546
duane(dot)sprague(at)schoolimprovement(dot)com