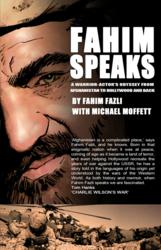 "When Fahim Fazli speaks,
we are fascinated."
Tom Hanks, Charlie Wilson's War
Laguna Niguel, Calif. (PRWEB) April 30, 2012
Born and raised in Kabul, Fahim Fazli saw his country and family torn apart by revolution and civil war. Dodging Afghan authorities and Communist informers with his father and brother, Fahim made his way across the border to Pakistan and then to America. After reuniting with his mother, sisters, and another brother, he moved to California with dreams of an acting career. After 15 turbulent years, he finally qualified for membership in the Screen Actors Guild and went on to act in several films, including Iron Man, as well as on television in Curb Your Enthusiasm, 24, Louie, and numerous Spike TV productions.
And, after two unsuccessful arranged marriages, he finally found true American love.
Though Fahim's California life was happy and rewarding, he kept thinking about the battlefields of Afghanistan. Haunted by a desire to serve his adopted country, he became a combat linguist. While other interpreters opted for safe assignments, Fahim chose one of the most dangerous: working with the Marines in embattled Helmand Province, where his outgoing personality and deep cultural understanding made him a favorite of both Leathernecks and local Afghans--and a pariah to the Taliban, who offered a sizeable reward to whomever could kill him. See more about the book at Fahim Speaks.
Open to the public, guests are welcome to arrive at 4:30 for complimentary wine and hors d'oeuvres, and the launch will begin promptly at 5:30 with a reading and Q&A; book signings will follow immediately after.
Guests are welcome to join Fahim and his coauthor, Lt. Col. Michael Moffett (USMC, Ret) for a wine-tasting dinner following the launch. Tickets for the dinner may be purchased in advance (seating is limited) by phoning the restaurant, at 949.493.7107.
A portion of the proceeds from sales of the book through the month of May will be donated to the Wounded Warrior Project, an organization which provides assistance to thousands of injured warriors returning home from the current conflicts and also to their families.
Visit Fahim Speaks or the Warriors Publishing Group website for more information about FAHIM SPEAKS.