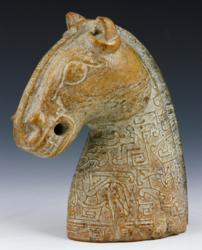 Beverly, MA (PRWEB) April 26, 2012
The top lot of the sale is a Chinese, Ming Dynasty (1368-1644) horse head calligraphy chop stamp, the chop is semi translucent amber green nephrite jade with inscriptions carved on the head estimated at $15,000-$25,000. Other jade in the sale includes a Chinese, Qing Dynasty (1644-1911), blooming flower vase of semi translucent amber green nephrite jade, carved in the form of an opening flower valued at $3,000-$5,000 and a Chinese Jade Scepter, carved with a bat, a dragon and inscription also valued at $3,000-$5,000.
An interesting pair of ivory figures, carved in the form of an emperor and empress and having intricately carved robes, on rosewood stands, standing 19"high are valued at $6,000-$9,000
Chinese paintings in the sale include a 17th/18th century narrative scene with deities, from the Harris estate, Park Avenue, New York City, New York with an estimate of $10,000-$15,000. There is also a China Trade painting of an arctic whaling scene, by Brian Coole, (b. 1939), oil on board, signed estimated at $3,250-$4,250.
A Qianlong Dynasty, Chinese brush pot made of stone carved with bamboo, plum blossoms and clouds is estimated at $4,000-$6,000.
There are over 500 lots of porcelain in the sale. Highlights include a Doucai jar, China, painted with blue and green dragons, chasing pearls amidst clouds, with a ruyi pattern above, and a Qianlong mark on the base, measuring 7" x 7 1/2", valued at $3,000-$5,000 and a late 19th early 20th century, Chinese, Famille Rose Vase, the exterior painted with an idyllic rural landscape scene including, mountains and figures, with a Guangxu mark on the base, measuring 17" x 8 1/2" valued at $3,000-$4,000.
For more information 978-927-2223
Kaminski Auctions located on the North Shore of Boston has been serving the New England antiques market for over 25 years, as a full service auction house and appraisal service for fine art, antiques and estates.
With two locations in Beverly, Massachusetts, including a new state of the art auction gallery located at 117 Elliott Street, and a historic 1850's barn and office facility at 564 Cabot Street Kaminski Auctions hosts 16 auctions a year.
In today's highly competitive market of fine art and antiques, Kaminski Auctions provides its customers with bicoastal services and marketing with west coast offices in Beverly Hills and San Diego, California.