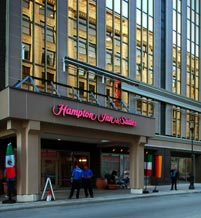 "Our new Perfect Mix Lobby, which provides a comfortable place for our guests to eat buffet breakfast (which is included in the room rate), work and socialize, is the final ingredient in our recipe for superior guest satisfaction."
Milwaukee, WI (PRWEB) April 27, 2012
Hampton Inn and Suites Milwaukee Downtown is pleased to announce the opening of its Perfect Mix Lobby. The cheerful and warm lobby offers guests more comfortable space to enjoy their complimentary hot breakfast, work and mingle. The leadership of the Downtown Milwaukee Hotel says the space is an example of its ongoing efforts to ensure every guest feels welcome and valued.
"The renovation of our lobby is another way of telling our guests 'We love having you stay with us,' and is another milestone in our perennial efforts to ensure 100% guest satisfaction," said Terry L. Houdek, Director of Sales and Catering at Hampton Inn and Suites Milwaukee Downtown.
Last month Hampton Hotels was awarded 2012 Customer Service Champion by J.D. Power and Associates, and launched a new initiative called "Feel the Hamptonality," which emphasizes Hampton Hotel's superior service. Hampton is continually improving its product offering to meet and exceed the needs of all guests, but what really distinguishes Hampton from its competitors is the way hotel team members make guests feel.
"The goal of every Hampton Inn and Suites associate is to create a great hotel experience for our guests by blending superior personal attention with anticipatory service, which means we work hard to anticipate and fulfill every guest's needs," said Eric Bates, General Manager at Hampton Inn and Suites Milwaukee Downtown. "Our new Perfect Mix Lobby, which provides a comfortable place for our guests to eat buffet breakfast (which is included in the room rate), work and socialize, is the final ingredient in our recipe for superior guest satisfaction."
Located on the sixth floor, and accessed by a glass elevator, Hampton Inn and Suites' bright and cheerful ballroom, which seats up to 150 guests, is an elegant downtown Milwaukee wedding venue. The room's large, seven-foot windows reign in natural daylight and command stunning views of the tall buildings of Wisconsin Avenue, adding daytime warmth and nighttime sparkle to a reception dinner.
The ballroom is a local favorite as an elegant Milwaukee banquet hall.
For more information about The Hampton Inn and Suites Milwaukee Downtown, please call (414) 271-4656 or go to http://www.hamptonmilwaukee.com.
About The Hampton Inn and Suites Milwaukee Downtown
The landmark choice for downtown Milwaukee hotels, the Hampton Inn and Suites Hotel Milwaukee Downtown provides lodging accommodations in the heart of downtown Milwaukee's business, entertainment, and cultural districts.
The hotel is located blocks from the Harley Davidson Museum, Bradley Center, Frontier Airlines Convention Center, Marquette University, Johnson Controls, Wells Fargo, Northwestern Mutual, and the Henry Meier Festival (Summerfest) Grounds and just a short drive from Harley Davidson, MillerCoors Brewing Company and Rockwell Automation.