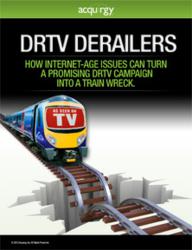 St. Petersburg, FL (PRWEB) April 27, 2012
Back in the day, DRTV used to be easy and decidedly not complex. You created a show or spot. You only had to track mail and phone orders. And media was cheap.
It's a different world today, much more complex, much more to track, and media isn't cheap anymore. Acquirgy's new ebook, DRTV DERAILERS, identifies 12 of the most important stumbling blocks DRTV marketers face, all of which can negatively impact a DRTV campaign if not resolved. The eBook is available at: http://DD112.acquirgy.net for immediate download. DRTV DERAILERS outlines these issues and suggests remedies:

Derailer #1: Website/Landing Pages
Derailer #2: Online Shopping Cart
Derailer #3: Information Inconsistency
Derailer #4: Lack of Robust SEM Program
Derailer #5: Lack of Accurate Tracking
Derailer #6: Too Many Distractions
Derailer #7: Not Using Video Footage Online
Derailer #8: Customer Acquisition Links Broken
Derailer #9: Not Addressing The "Free Shipping" Issue
Derailer #10: Ignoring Online Competition
Derailer #11: No Social Media Presence
Derailer #12: No Video Site Presence
eBook author Irv Brechner said, "Today, creating a successful DRTV show or short-form is very complex, with easily a dozen moving parts that all need to work in harmony. Failure to address any one of these can cripple even the most promising campaign."
About Acquirgy
Acquirgy (http://www.acquirgy.com) is an Acquisition Marketing Agency developing and executing accountable marketing programs driven by immediate and measurable response metrics across all digital and traditional platforms. Proprietary tracking systems integrate all transactional media, logistic and response data from all platforms to optimize client profitability.