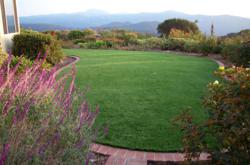 "EasyTurf's "Major League" heritage as a FieldTurf company really gives our customers peace of mind that they are buying and installing quality turf with outstanding support from the manufacturer." Sarah Tiglio, Product Manager for Hydro-Scape
Vista, CA (PRWEB) April 27, 2012
Hydro-Scape records sky-high sales after teaming up with EasyTurf to supply their superior synthetic grass to customers in the region.
Hydro-scape, a leading Southern California irrigation and landscape supply company, has broadened their services by offering the UltimateGrass product by EasyTurf. Since the in-store launch July 2011, synthetic grass sales have improved by 200% across their 17 branch locations, instantly boosting a previously low-demand product.
"EasyTurf has become a very important partner as we have diversified our product offerings and market channels," said Sarah Tiglio, Product Manager for Hydro-Scape Products.
Last year, EasyTurf announced the expansion of their network, creating a unique business opportunity for dealers in the landscape and irrigation industry based on their massive growth as the most trusted synthetic grass company. EasyTurf's ongoing and successful partnership with Hydro-Scape proves that this high profit business model works.
"Hydro-Scape gives us the market presence and added value we seek when growing the landscape distribution sales channel. We couldn't be happier with the results of our joint efforts thus far...and the future looks bright," said Steve McLean, EasyTurf Director of Sales.
EasyTurf, a division of FieldTurf, is proud to provide Hydro-Scape the most cutting-edge and trusted synthetic grass products in the world, free ongoing training as well as industry-best marketing and sales support.
"EasyTurf's "Major League" heritage as a FieldTurf company really gives our customers peace of mind that they are buying and installing quality turf with outstanding support from the manufacturer, " said Tiglio.
Synthetic turf has become the preferred landscape design solution in Southern California over sod and other natural landscape products. The synthetic grass industry adds value regardless of the new home construction trends, and is proving to be the solution to reducing water use.
EasyTurf, a division of FieldTurf, supplies the most technologically-advanced, safest, realistic and durable grass products via FieldTurf's triple ISO certified manufacturing facility in Calhoun, ensuring the highest quality turf systems for all customers.
EasyTurf is committed to achieving the highest of environmental standards with fully recyclable and recycled materials.
About EasyTurf
In May 2010, EasyTurf became the national brand of FieldTurf's landscape, pets, playground, and golf artificial grass products. This relationship allows FieldTurf to rapidly expand its existing dealer network and accelerate sales and distribution of landscape products nationally to homeowners, municipalities, schools, businesses and the military. EasyTurf has made the Inc. Magazine list of fastest growing private companies the last three consecutive years.
###