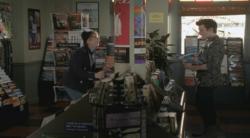 Los Angeles, CA (PRWEB) April 26, 2012
Glee's "Dance with Somebody" Whitney Houston tribute episode, featuring the music and talent of the late pop music icon, showcased a variety of Daisy Rock's girl guitars in a music shop scene that aired Tuesday, April 24. The set director of the smash FOX television show hand selected Daisy Rock's Rebel Rockit Super Nova (Black Cherry Burst) and Stardust Elite Classic (Blue Cheer) electric guitars, along with the Debutante Rock Candy bass (Atomic Pink), and many other DRG professional line guitars to adorn the music shop set. In addition, distributor turned co-owner, Alfred Music Publishing, shared the scene with product and Alfred logos prominently displayed in the shop.
Tish Ciravolo, President and Founder of Daisy Rock Girl Guitar shares: "How cool! It was so much fun to help set up Glee's music shop scene, and on the Whitney Houston tribute episode—what an honor!"
Glee's Whitney Houston episode's viewership came in at 6.85M. The hit musical comedy-drama series airs Tuesdays on the FOX network, 8/7 Central.
Daisy Rock Girl Guitars offers a complete line of quality girl guitars designed to look and sound great, and to fit the female form. For more info, or to find a dealer near you, visit daisyrock.com.
ABOUT DAISY ROCK GIRL GUITARS
Daisy Rock Girl Guitars is the original girl guitar company dedicated to successfully supplying and marketing professional quality guitars for females of all ages. All Daisy Rock guitars are designed specifically for the female form and feature lightweight bodies, "Slim & Narrow" neck profiles to better fit smaller hands, and are available in inspiring finishes. Daisy Rock Girl Guitars' ongoing mission is to do whatever it takes to help girls play guitar and enjoy music.
Daisy Rock Girl Guitars is led by its Founder and President, Tish Ciravolo. Ciravolo is a highly acclaimed expert on female empowerment and females in music. Tish's expertise has been immortalized by her induction into the Museum of Making Music, the world's premier museum showcasing the history of the music products industry, and she is widely regarded as a visionary in the industry. Ciravolo's deep insight into the subject of girl guitars and female empowerment has made her a sought after and frequent contributor on national and international television, newspapers, magazines, websites, and radio programs including People, Time, Newsweek, CNN, ABC, NBC, FOX, VH1, the Premier Radio Network, BBC Radio, and the Associated Press. Daisy Rock Girl Guitars is in over 25 countries worldwide, and is co-owned and distributed by Alfred Music Publishing.