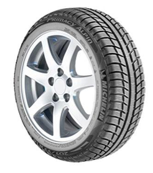 There are actually a lot of benefits of using a car tire in the rear of a motorcycle
(PRWEB) April 26, 2012
A number of motorcycle riders have found the benefits of using a car tire on the rear of a Goldwing. The practice was referred to as "being on the Darkside" since people thought riders would all die in a ball of flames. Well, that is just not the case. There are actually a lot of benefits of using a car tire in the rear of a motorcycle.
Car tires have a much larger contact area so problems with the road get distributed throughout the tire. Traction is improved, bridge grates are irrelevant, and gravel is much less of an issue.
Second, the sidewalls are able to flex more, so road issues are absorbed. About 75% of the jarring and shaking goes away. Motorcycle passengers will love it!
Third, the same flex of the sidewall lets it spread out in corners. The harder a rider takes a corner, the more it spreads out and puts rubber on the ground.
Fourth, the tire is much stronger - especially run-flat tires. If a rider has a sudden loss of air, the tire will provide some time to recover. If the tire does happen to pick up a nail or other road hazard, a car tire can take a patch much better.
Finally motorcycle riders can expect a lot more miles out of a car tire than someone could with a traditional motorcycle tire.
Many riders opt for the 195/55R16 Michelin Primacy Alpin PA3 ZP which are new to the SimpleTire.com website. This offers a great ride and gives the rider that zero pressure run flat that many riders are looking for. Feel free to look up Michelin Tires and their associated specs or pricing on SimpleTire.com
--
SimpleTire.com is the leading source for finding tires online. The company knows that buying tires can be confusing and sometimes overwhelming. Not only does the companies website provide detailed information, features, and benefits for each tire, but the website also offers live tire experts to help visitors select the right one for their vehicle.