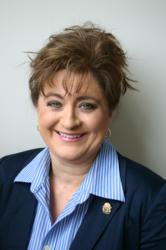 "My decision to run as a Write-In Candidate for Mayor came late because my commitment to my community prevents me from allowing Mayor Lazaro to run unopposed again. There are many critical issues facing residents that jeopardize our quality of life, and I
Purcellville, Virginia (PRWEB) April 26, 2012
The charm of Purcellville is special with so many older residential and commercial properties that have so much potential and amazing character to them. These are priceless and timeless, and need to be preserved when being repurposed for revitalization projects, not knocked down and hauled way. Purcellville is well on its way of looking like any place else, but she believes enough residents are ready to stand up and be counted. Grim pointed out that when her opponent first ran for Town Council eight years ago; having lived in the town for only a year and a half, his campaign motto was "Don't Burb Purcellville". Yet, that is exactly what he has done throughout his terms.
Grim did run as a Town Council Candidate in 2010, when there were three open seats. She was the only woman in the race. A total of five candidates were on the ballot, with two incumbents supported by the unopposed mayor. She stated, "It was not about winning a seat on Council for me, it was about enhancing the quality of life for the Town of Purcellville. On my listening tours, when going door-to- door I have heard from residents and business owners about their questions and concerns."
Some of the issues that she has focused on is the Town's lack of transparency, too much business of the public is done in closed meetings, including the interviews for Council and Committee positions that the mayor and town council appoint. Also the Town's current debt is $9,000 for every man, woman, and child in Purcellville which is not sustainable, along with the rising utility rates with no solutions being presented to residents and business owners.
When asked if she thought she had a chance of unseating the current mayor, Kelli said, "I have more than a chance, I know for a fact from the many residents who have voiced their support that I am a legitimate contender. It is not about me, it is about the residents of Purcellville that want to be heard, that want to protect Purcellville from being supersized. Purcellville has such an incredible heritage, and I feel it must be preserved for our future generations. Together we can build a town that we are not only proud of, but that provides economic development opportunities through our heritage and tourism attractions."
VOTE-Tuesday, May 1, 2012 at Emerick Elementary School, 6:00am – 7:00pm. MEET ON MAIN STREET EVENTS:
Friday, April 27th, at Purcellville Family Restaurant for coffee 8:00am – 9:30am
Saturday, April 28th, in front of 105 E. Main St., from 10:00am – 12:00pm
(across the street from old town hall and next door to Valley Energy building).
Paid for and authorized by Kelli Grim Loves Purcellville Campaign