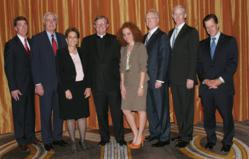 Fairfield, CT (PRWEB) April 26, 2012
Fairfield University's 25th Annual Fairfield Awards Dinner was held on Wednesday, April 25, 2012, at the Grand Hyatt New York in New York City. The event, which benefits the Fairfield University Multicultural Scholarship Fund, raised over $1.4 million, the second largest amount in history, and is Fairfield University's major fundraising event.
Keynote speaker the former Director of Central Intelligence George J. Tenet, who is currently Chairman, Allen & Company LLC. The Fairfield Awards Dinner also recognized alumni, faculty, and staff for the highest levels of professional achievement, outstanding leadership, academic excellence, and meritorious service.
This year's honorees include: Paul J. Huston '82, Alumni Professional Achievement Award; Jack L. Kelly '67, P'96, Alumni Service Award; and Ellen M. Umansky, Ph.D., Distinguished Faculty/Administrator Award. Co-Chairs for the event are Mark W. DeGennaro, '82, and Michael E. McGuinness '82. For additional information, contact the Fairfield University Office of Corporate Relations, (203) 254-4000, ext. 2927, or visit http://www.fairfield.edu/awardsdinner.
Fairfield University is a comprehensive Jesuit institution in Fairfield, Connecticut, that prepares students for leadership and service in a constantly changing world. By integrating living and learning, and combining a broad liberal arts foundation with professional preparation, Fairfield University students receive the tools, confidence, and vision to put their unique gifts to work as successful global citizens for the benefit of their communities and the world.