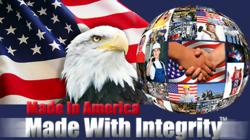 MyLocalManufacturer.com has the capability to introduce and promote American manufacturers and their products to a community interested in buying them
Fullerton, CA (PRWEB) April 30, 2012
MyLocalManufacturer.com is an up-and-coming online community dedicated to the promotion of American manufacturers and their products. This website was put together in an effort to create a place where American manufacturers can offer their products to a potential customer base that is worldwide, ultimately increasing exposure of American manufacturers who subscribe to the website.
MyLocalManufacturer.com has the capability to introduce and promote American manufacturers and their products to a community interested in buying them, which is quite large since "American made" translates to quality, integrity, passion, service, loyalty, sustainability, durability, and innovation across the globe. The website's marketing team has the knowledge and capacity to give MyLocalManufacturer.com, and subsequently its subscribers, immediate online exposure to appropriate platforms where American manufactured products can be sold directly to interested buyers worldwide.
The CEO of MyLocalManufacturer.com, Matt Zamani, attended the international home housewares show in Chicago, which took place March 10-13, 2012. On Tuesday, March 13, Jon Huntsman, former US ambassador to China and republican presidential candidate, gave a talk focusing on the eminent renaissance in American manufacturing. After this moving presentation, Zamani had the pleasure of briefly meeting with Huntsman. Zamani lauded Huntsman's talk and was able to quickly mention the function of and meaning behind MyLocalManufacturer.com. Huntsman had a very supportive reaction to the project and gave a few words of encouragement.
For more information please visit http://www.MyLocalManufacturer.com.